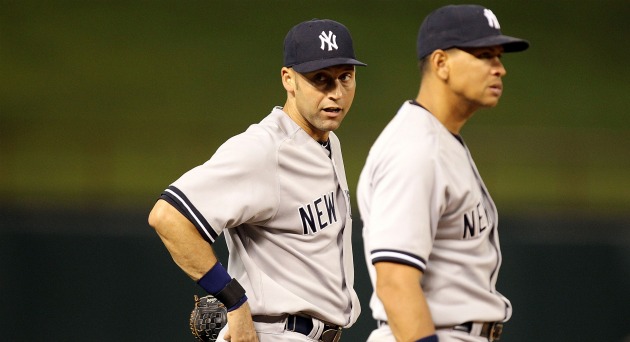 By Evan Brunell
In Filip Bondy's
New York Daily News
piece about the need for manager Joe Girardi to coordinate
Derek Jeter
's playing time so that he can reach 3,000 hits on or before June 16 comes an interesting note about
Alex Rodriguez
nearing his own significant milestones.
Jeter is currently pacing to reach 3,000 hits during the week of June 15-21, and the
Yankees
finish their homestand on the 16th before embarking on road trips to the
Cubs
and
Reds
. Obviously, New York would prefer Jeter to get the milestone in front of his fans, but that can't happen unless Jeter stays in the lineup every day and continues his 1.1 hits-per-game pace. In an attempt to keep him in the lineup, the Yankees used Jeter as the DH on Tuesday, but he didn't register a hit.
But A-Rod is closing in on 3,000 himself, notching his 2,720th hit during Wednesday's game against the
Blue Jays
. His .302 career average gives him 188 hits a season, a pace that would earn him 3,000 hits by the end of the 2012 season. However, given that he's only averaged 134 hits the last two seasons and is on a similar pace this year, he'll likely earn the milestone in the first half of 2013, right around the time he bangs home run No. 700.
Bondy then asks the question, fraught with peril: Who will finish with more hits in his career? Jeter or Rodriguez?
Despite being 256 hits behind, it's likely Rodriguez will easily pass Jeter, given that he's one year younger than Jeter and his contract has three additional years on it than Jeter's. Rodriguez already has far more home runs than Jeter, but no one cares about that -- home runs were never part of Jeter's game, and Rodriguez came to town with the edge there anyway.
No, 3,000 hits is a far bigger deal in New York -- and what with performance-enhancing drugs having dulled the luster of home runs, 3,000 hits may be the more significant milestone. Even the possibility that Rodriguez will surpass Barry Bonds for the all-time home-run lead (not as sure a thing to happen as it appeared a few years ago) will be tempered by A-Rod's own admission of steroid use.
Will Yankee fans embrace Rodriguez's pursuit of 3,000 as much as Jeter's? Doubtful. Jeter's own milestone will still be fresh in the minds of many, and they'll be reminded of it when Rodriguez gets his own 3,000th hit as Jeter will still be under contract to New York. Doesn't mean he'll be at shortstop or even in the lineup the day it happens, but Jeter will be there to remind people just how good he was and how much more memorable the payoff of 3,000 hits was, especially given that Jeter's 3,000 will have all come in a Yankees uniform. That underscores the longevity argument: This is a man who is in his 17th season with New York -- 19 in 2013. Rodriguez can't compete with that, even if he'll have been with the Yankees for a decade in 2013.
A-Rod can't compete with longevity, he can't compete with Yankee rings (just one compared to Jeter's five), and he definitely can't compete in cachet, as many Yankee fans regard Rodriguez as a necessary evil. While Yankee fans will celebrate Rodriguez's 3,000 hit mark, it won't have the same impact. He'll join Dave Winfield, Rickey Henderson, Wade Boggs and Paul Waner as Yankees who have over 3,000 hits in a career who played for the Yankees, but he will not be on the Jeter pantheon, even if he'll become just the second Yankee behind Jeter to get 3,000 in pinstripes.
But what if -- more like when -- Rodriguez passes Jeter's career hits mark? Can the Yankees and fans avoid a celebration of that? Let's say Jeter retires after the 2013 season with 3,300 hits, a reasonable number. (This would require Jeter not picking up his $8 million player option.) A-Rod would pass that by the time his own contract expires after the 2017 season. Is that celebrated? It has to be acknowledged, right?
Jeter's legacy will still be fresh in the minds of many, and the vast majority of fans -- front-office included -- won't be keen on celebrating Rodriguez's passing of Jeter. They can probably get around it by noting that it's not a record for hits in a Yankees uniform. Jeter will keep that mark to himself for a very long time. But will it be appropriate for New York to ignore A-Rod's passing of the mark, no matter how many hits he collected in pinstripes?
Sure, the Yankees could always trade Alex Rodriguez by then and avoid the headache. But A-Rod has a contract that makes him virtually untradeable, so that's not happening. In the years to come, New York's going to see significant records set by Jeter,
Mariano Rivera
and Rodriguez himself. With respect to A-Rod, it's doubtful that even the Yankees know what they'll do when his day comes.
For more baseball news, rumors and analysis, follow @cbssportsmlb on Twitter or subscribe to the RSS feed.