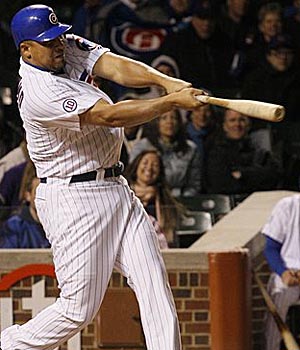 By Matt Snyder
Cubs
starting pitcher
Carlos Zambrano
has long been one of the best hitting pitchers in baseball. He has 22 career home runs in 686 plate appearances. His career batting average of .241 could be acceptable for a good defensive catcher. He's really locked in this season, though, as he's hitting .375 with a .583 slugging percentage through 26 plate appearances.
It got me thinking, how does he compare to other hitters around baseball? Granted, it's a much smaller sample, but this is just supposed to be a fun look. If you're gonna get all serious and freak out about any "comparison" -- because I'm not comparing Zambrano as a hitter to any of these hitters -- you might want to stop reading. Or at least take a deep breath and lighten up.
Zambrano's .958 OPS is most like ...
Matt Kemp
(.956). It's better than:
Adrian Gonzalez
,
Prince Fielder
and
Kevin Youkilis
.
Zambrano's .583 slugging percentage is most like ...
Ryan Braun
(.575). It's better than:
Mike Stanton
,
Matt Holliday
,
Jay Bruce
,
Carlos Quentin
and
Miguel Cabrera
.
I'll again reiterate these are guys with about seven times as many at-bats as Big Z, are far superior hitters and there's little chance he can keep up this pace. It's just a fun look at how well he's swung the bat early in the season on the heels of a 3-3 game with a double and an RBI.
Earlier this week, Cubs manager Mike Quade used Zambrano as a pinch hitter and it drew some ire from curmudgeons who need to complain about everything under the sun. Zambrano came through with a bases-loaded, two-RBI single to center. But, of course, he was put at an injury risk, according to the complainers. Quade had a good response:
''He's probably healthier than most of the guys on this club,'' Quade said. ''Given the situation we were in at that point, it really only made sense to me to get him down there and let him stretch and get loose and get an at-bat. . . . If I was concerned at all, I wouldn't have done it.'' (
Chicago Sun-Times
)
It is amazing to me how much of an injury risk some people think swinging a baseball bat is.
The other backlash we're bound to hear is that he's paid to pitch, not hit. That's false, because he's actually paid to play baseball. Like it or not, National League pitchers use the bat. Zambrano's ability to swing the bat actually increases his overall value to the team. Instead of an automatic out, he's actually a productive member of the lineup. That's a boost. Sure, he's still overpaid, but that has nothing to do with his bat. And he hasn't been bad on the hill, either. He's 5-2 with a 4.59 ERA and 1.31 WHIP with 46 strikeouts. Certainly not great, or even good, but he's healthy and the Cubs have won eight of his 11 starts. If you want to give some credit to run support, well, we're back to talking about him helping himself with the bat.
It's high time we just sit back and enjoy watching Carlos Zambrano enjoy hitting the baseball. Remember, we originally became baseball fans because it was fun. He likes hitting, so we need to just like watching him hit.
For more baseball news, rumors and analysis, follow @cbssportsmlb on Twitter or subscribe to the RSS feed.