By Evan Brunell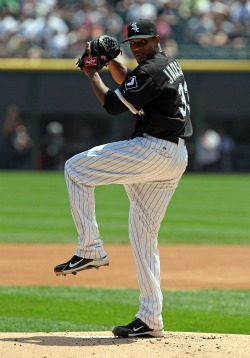 The
White Sox
's six-man rotation will come to an end shortly, but no one knows who will be removed from the rotation.
"I don't know one starter who would say he'd be happy,'' starting pitcher
Edwin Jackson
told the
Chicago Sun-Times
. "But it's one of those things where you do what you have to do.''
Mark Buerhle,
Jake Peavy
and
Gavin Floyd
are going nowhere.
John Danks
may be 0-8, but that speaks more to the fallacy of relying on a win-loss record as Danks has been a fine pitcher and has a strong history of performance. That leaves either Jackson, free agent to be, or Phil Humber, who is the latest benefit of pitching coach Don Cooper's magic elixir.
Jackson is making $8.35 million on the year and has a history of success in the rotation while everyone is waiting for Humber's wheels to fall off. Not an easy call, but Jackson for his part says he'll accept a shift to the bullpen if needed, although it won't be his preference.
Jackson currently has a 4.63 ERA in 11 starts, posting a 3.3 BB/9 ratio along with a 7.8 K/BB ratio, better than his career numbers. His 3.36
xFIP
shows that he has pitched better than his ERA indicates. Humber, meanwhile, has a 3.06 ERA and 4.08
xFIP
. The advanced metrics certainly bolsters Jackson's case, but much of the game still focuses on ERA as a barometer of success. If it is indeed Jackson that heads to the bullpen, he'll at least have a modicum of experience to draw from, as he relieved in 22 games for the
Rays
back in 2006 before his first full season as starter. He also has relief experience from the two years prior in Los Angeles.
"It's a game of adjustments,'' Jackson said. "I mean, what can you do if you have to go to the pen? There's nobody who wants to go to the pen. I've done both. I've been in the pen. I like starting and see myself as a starter, but a lot of starters have had both roles.
"At the end of the day, it wouldn't necessarily be about me. It would be about the team. I would like to stay starting­ ­— I'm comfortable starting — but if I have to go to the pen, I'd just go down and deal with it.''
Jackson certainly has the right idea here -- as a free agent next year, he can dictate his next destination and can ensure he lands somewhere as a starter. In the meantime, he can bolster his image in the game by accepting a move without complaint.
For more baseball news, rumors and analysis, follow @cbssportsmlb on Twitter or subscribe to the RSS feed.