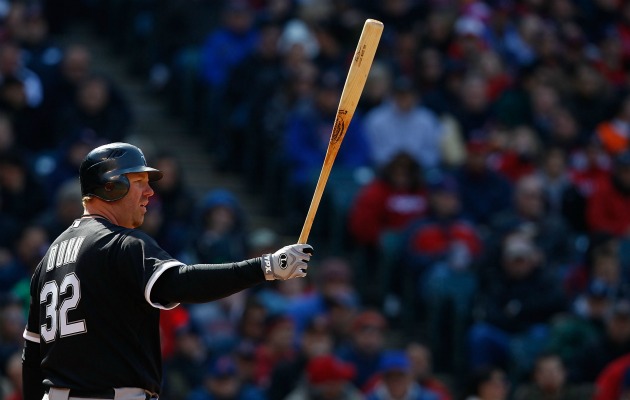 By C. Trent Rosecrans
Here's your understatement of the day -- Adam Dunn is struggling.
The White Sox's $56 million designated hitter is hitting just .180/.329/.326 with five home runs and 71 strikeouts in 213 plate appearances. He has an OPS+ of 82, a WAR of -0.3 and a WPA of -0.77 -- in other words, he stinks this season.
Now, plenty of players stink these days. The difference with Dunn is that the one thing that has marked his career has been consistency. Since 2004, he's hit at least 38 homers and had an OBP of .356 or better, slugging better than .500 for six of the seven years in that stretch.
There are two big differences -- a different league and a different position.
As for the league, as a National Leaguer with the Reds, Diamondbacks and Nationals, he played in 134 games against American League teams, hitting .247/.362/.523 with 36 homers. That's pretty similar to his career numbers. In three games against National League teams this year, he's hitting .091/.333/.091 -- worse in line with this season's numbers against American League teams, even though three games is a sample size so small it's probably insignificant.
So then, is it the position?
Dunn had long been against DHing. Last year I talked to him and he told me he'd rather quit at this point than serve as a DH. What changed his mind? The same thing that would change any of ours -- a team willing to pay him $56 million to be a DH and nobody offering that much for him not to DH. It was a pretty simple decision for Dunn.
Well, it's safe to say the White Sox aren't getting their money's worth so far. And former White Sox designated hitter Frank Thomas said the switch to DH is the biggest reason for Dunn's decline -- and the slugger should adapt.
"I knew this was going to happen, to be honest," Thomas told WSCR radio in Chicago. "This guy's playing out of position. He's been an outfielder and first baseman his whole career and he comes to a new league and has to DH every day. It's not easy at all. I've been there. Over my career, I probably lost 30 points on my batting average once I became a full-time DH. It's just really tough to stay loose, stay focused and stay part of the game. You're coming in four pinches a day, five pinches a day. It's a different mindset. I think he'll be fine going into the third month of the season. I really thought he'd be in trouble the first couple of months."
Thomas spent most of his first full season in the big leagues as a DH but then played first base from 1992-97, moving to DH nearly full-time in 1998 when he played just 14 games at first base. He didn't struggle that much, hitting .284/.389/.492 with nine homers in the first two months of that season, but at that point he'd been a DH in 230 games. Dunn had only been a DH in 18 games coming into this season.
Just as baffling are Dunn's struggles against left-handers. He's never really been great against lefties, but it's never been as big of a problem as it has been this season. Before 2011, he hit .235/.352/.465 against lefties and hit one homer every 20.04 plate appearances as opposed to once every 17.08 at-bats against all pitchers. This season, he's yet to get a single hit in 46 plate appearances against left-handers, walking just seven times.
Ozzie Guillen filled out his lineup card against Tigers left-hander Andy Oliver on Friday and put Carlos Quentin at designated hitter and has Dunn on the bench -- hardly the place anyone expected the team's big-ticket item of the offseason.
Thomas said he expects Dunn to improve, and it's unlikely someone with the track record Dunn has will continue to struggle as much as he has this season, but Dunn is 31 and not getting younger. He has what Bil James called "old players skills" -- power, strike zone judgement and little speed. Those, James wrote, peak earlier and erode sooner than other skills, making a player seem older than he really is -- and few are as old at 31 than Dunn. He should continue to produce, but he may never get to his previous level of production or consistency.
For more baseball news, rumors and analysis, follow @cbssportsmlb on Twitter or subscribe to the RSS feed.