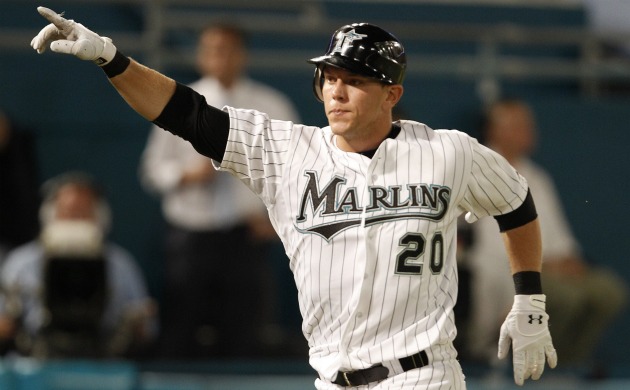 By Evan Brunell
Quite the rivalry is brewing between the
Marlins
and
Giants
, and
Logan Morrison
just took it a step further.
The Marlins left fielder felt compelled to speak out about Giants GM Brian Sabean's
inflammatory comments
in which he said that he wouldn't miss Cousins at all if he never played in the majors again. Cousins, of course, was the player to smash into
Buster Posey
, breaking Posey's leg and ending his season. Many are divided on whether the play was clean or dirty.
"That's immature," Morrison
told MLB.com
of Sabean's comments. "That's childish."
"I hope [Sabean] apologizes, because what he said was wildly inappropriate and wildly unprofessional, and it really shows ignorance on his part," Morrison said. "Not to show compassion for a human being who is going through a hard time ... I guess he wouldn't know anything about. If it were me, and I was on his side, I'd reserve my comments until the death threats have subsided."
Cousins has reportedly received death threats. Although he feels the play was clean, he has attempted to reach out to Posey to apologize for the injury and says the play is still an "open wound" for him. The Giants, for their part, released a statement that said Sabean's comments were spoken out of frustration, and that the GM was reaching out to both Cousins and Marlins president Larry Beinfest.
Morrison came right out and said he had "animosity" toward Sabean and his comments, although he holds no grudges against the Giants. But he also has lost respect for Posey:
If it was me running, I would have put him in the third row of the stands. If he got hurt, I'm sorry. That's part of the game. I'd feel bad if he did get hurt. But I wouldn't have written a two-page letter like Cousins did. I wouldn't have tried to reach out to him like Cousins did, because I know it's part of the game. I wouldn't have felt half as bad as Cousins did. And for Posey not to write back to him or say anything to him, that's just immature and childish. I have no respect for him or respect for Sabean.
The 23-year-old had plenty more to say on the subject, and he doesn't think the rules should be altered for collisions at home plate that place both the runner and catcher in danger:
If he doesn't like the rules, be in a different game. These have been around for a hundred years. This game is this way because it doesn't make the changes that football does or like basketball does. It sticks with the same rules. For him to question the integrity of the game because it happens to him, and it happens to one of his best players, doesn't mean that it should ask for rules changes.

Here's the thing: It's the winning run of the game. Even if he did, and I'm not saying he did have a clear lane, but that lane was about to be shut off by Posey, who was coming back towards him to tag him.

You're watching it in slow motion replay. If I had a clean lane and had to slide, and I was out by sliding, I'm mad at myself for not running him over. It's within my rights to run him over and separate him from the ball.
Morrison added that several Giants players told him and other Marlins players that the play was clean.
For more baseball news, rumors and analysis, follow @cbssportsmlb on Twitter or subscribe to the RSS feed.