By C. Trent Rosecrans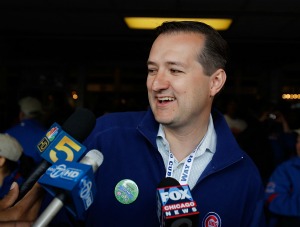 Cubs fans with dreams of either Albert Pujols or Prince Fielder defecting to the Cubs from their current National League Central foes may want to lessen their expectations.
According to Gordon Wittenmyer of the Chicago Sun-Times, the Cubs' current debt structure will keep the team from signing any high-ticket free agents for the next two or three years. Wittenmyer spoke to a source with "first-hand knowledge of the Cubs' purchase deal and debt structure" and noted it's consistent with the message Tom Ricketts has been preaching since taking over the team that they team would build through player development.
Friday the Los Angeles Times reported the Cubs were one of nine teams that were in violation of baseball's debt service rules. However, commissioner Bud Selig told the Chicago Tribune that he has no concern about the Cubs' current debt level. According to the Tribune, the Ricketts financed more than $400 million to purchase the Cubs in 2009, a deal that was worth $845 million.
"I have zero concern," Selig told the Tribune of the Cubs. "Everything we've ever asked of them, they've done it and then more. … I'm happy that a story [like this] reflects badly on the Chicago Cubs under Tom Ricketts. There is no reason anybody should have economic concerns. … It's so unfair to Tom Ricketts and the family. I normally don't talk about our business, but I can't let this go on. This is wrong."
However, the paper notes Selig did not dispute the accuracy of the story, just the perception it creates that more than just the Mets and Dodgers are in dire financial trouble.
Selig said the team is free to do whatever they want without interference from his office. But just because the bank says it's not foreclosing on your house, that doesn't make going out and buying a new Bentley is a good idea.

For more baseball news, rumors and analysis, follow @cbssportsmlb on Twitter or subscribe to the RSS feed.