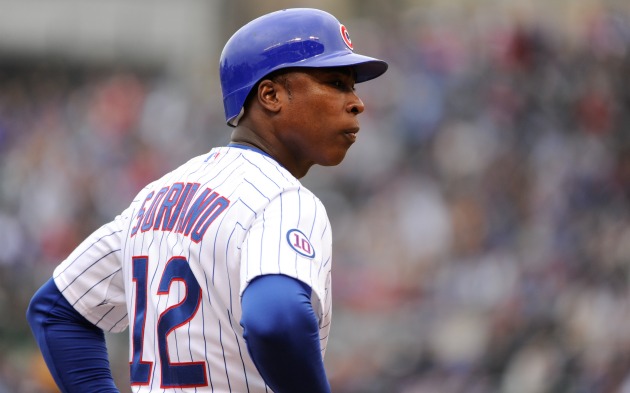 By Evan Brunell
The
Cubs
are gearing up for trade season, as GM Jim Hendry and his staff plan to determine the team's future leading up to the trade deadline. The
Chicago Tribune
says that Chicago will start taking bids on overpriced or underachieving players, as Hendry continues his third rebuild, although he could be out of a job once the season ends.
With those parameters in mind, who could the Cubs deal?
Kosuke Fukudome, right fielder
Original contract:
4 years, $48 million

Contract remaining (includes 2011):
1 year, $13.5 million
Fukudome is enjoying his most productive season and has gotten better with each of his four years in the majors. He's playing center field on Friday for the first time since 2009, which tells you the Cubs are trying to keep his bat in the lineup. He still doesn't hit for much power, but that doesn't matter when you have a .400 OBP. Even better is the fact he is no longer a platoon player against left-handed pitching.
Chance of being traded:
Fukudome has never really seemed to fit in Chicago, although his disappointing production to start is partly to blame. The Cubs project to have an
Alfonso Soriano
- Brett Jackson -
Marlon Byrd
outfield next season, so Fukudome would appear to be the odd man out. There are several teams in demand of an outfielder and it will be hard to do much worse than Fukudome in production, salary and cost to acquire.

John Grabow, reliever
Original contract:
2 years, $7.5 million
Contract remaining:
1 year, $4.8 million
For a team rebuilding, do they really need a reliever tasked with getting left-handers out -- but isn't? Grabow's contract is obviously not a hindrance, but his performance this season isn't up to par. While he's still getting lefties out at a better clip than righties, he hasn't exactly been a lockdown reliever. In 31 innings, Grabow has walked 11 and whiffing 16, posting up a 4.94 ERA and 4.79
xFIP
.
Chance of being traded:
Grabow isn't getting the job done overall or against left-handers, and the contract is hefty for his (lack of) production.
Carlos Pena, first baseman
Original contract:
1 year, $10 million
Pena isn't really underachieving thanks to his power production, nor is his contract prohibitive, but a .220 batting average is disappointing even if it represents a 24-point increase over 2010. By trading Pena, the Cubs could give Tyler Colvin an extended shot at playing time in the second half, plus gear up for possible runs at
Albert Pujols
and
Prince Fielder
. There are teams out there that would welcome Pena's 14 bombs and .350 OBP.
Chance of being traded:
Pena will probably stay, as none of the clear contenders other than the
Angels
appear to have any interest or need of a first baseman. If Washington somehow stays hot and inserts itself in the postseason race, they could use Pena as
Adam LaRoche
is now lost for the season due to injury. Washington actually coveted Pena over LaRoche, but the former Ray opted for Chicago.
Aramis Ramirez, third baseman
Original contract:
5 years, $75 million
Contract remaining:
1 year, $14.6 million, plus $16 million club option ($2 million buyout)
Ramirez has a no-trade clause and has already said he won't allow a trade out of Chicago, but he could always change his tune based on where he would be traded or just by flat-out changing his mind. After all, as Alfonso Soriano said recently, why would you block a trade if the team wants you out? Ramirez had a brutal first half last season before recovering in the second half. He hasn't been much better this season.
Chance of being traded
: Unless a team is really desperate and the Cubs agree to cover the buyout plus some of his current deal (fat chance), Ramirez is staying.
Alfonso Soriano, left field
Original contract:
8 years, $136 million
Contract remaining:
4 years, $72 million
Soriano's 2009 is looking more and more like an aberration -- at least for now. That's good, but he still hasn't reached the level of play he flashed in his first two years with the Cubs. The 35-year-old is a liability on defense, is showing regression in plate discipline without much difference in contact levels and is just overall a massive risk for a team to take on.
Chance of being traded
: Unless Soriano is part of another bad contract trade (for
Barry Zito
?), he's going to be finishing out his deal. How this contract is going to look in two years is a scary thought.
Carlos Zambrano, starting pitcher
Original contract:
5 years, $91.5 million
Contract remaining:
2 years, $38.875 million, plus $19.25 million vesting player option
Out of all the players on the list, Zambrano looks the most appetizing. Unfortunately, it's almost by default. Big Z has just one year after this remaining on his deal and it's a long shot he will get that player option to vest as he has to finish in the top four of Cy Young Award voting next season to trigger it. But as everyone knows, he's quite a hothead and is too erratic and inconsistent in his pitching. His 4.50 ERA won't draw any fans, although he's always capable of ripping off a dominating stretch as everyone witnessed in his final 11 starts of 2010.
Chance of being traded
: Teams are always in need of pitching, so Zambrano might be able to find a new home by July 31. The odds are that he stays and is part of the rumor mill during the offseason.
For more baseball news, rumors and analysis, follow @cbssportsmlb on Twitter or subscribe to the RSS feed.