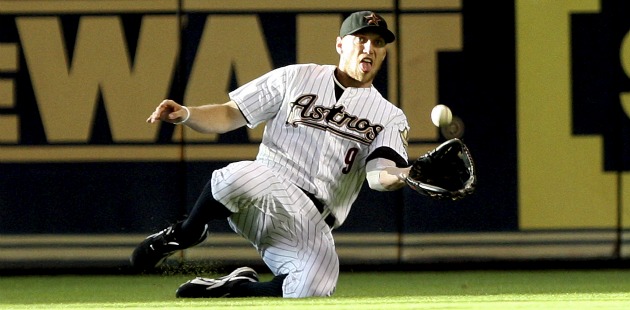 By Evan Brunell
The
Astros
are in a tough position with a much-needed rebuild blocked by the transfer of ownership from Drayton McLane to Jim Crane. Houston began the rebuild process last season by dealing
Lance Berkman
and
Roy Oswalt
, but have few other players to deal that can fetch value in a deal. One such player is
Hunter Pence
, but how can Crane sign off on trading the face of the franchise before he even assumes control?
That's a quandary facing GM Ed Wade as Pence is getting increasingly expensive. For a team that needs to rebuild, Pence could bring in a couple vital pieces to aid that rebuilding, but it's not a good idea for a new owner to come in and immediately deal the team's biggest drawing card. Complicating matters is that
Fox Sports' Ken Rosenthal reports
club officials consider Pence a "core player for the future."
Except that Pence, while valuable, is not a star. He's the excellent complementary player every team needs to win the World Series, but isn't someone you build around. Houston needs to keep that in perspective; Pence looks better with the motley crew of teammates he has in Houston than he would in the
Red Sox
lineup.
At 28, Pence is actually enjoying his best season since 2007, his rookie year. His 22 doubles lead the National League and has contributed nine home runs, landing a line of .315/.356/.490. In this depressed offensive climate, that output creates 38 percent more runs than a league-average hitter, according to
weighted runs created
, a statistic that measures offensive output by runs and how it compares to league average. That ties the right fielder for 30th overall as baseball's most productive hitter.
There's no question that many teams would give up plenty to acquire Pence. That's why incoming owner Jim Crane needs to put public relations considerations aside and consider a Pence trade if the return makes sense. The Astros simply need to rebuild, a process they have already started. It makes no sense to hang onto Pence when he's making $6.9 million and has two more years of arbitration ahead of him, and with an Astros team unlikely to challenge for the division before he becomes a free agent.
The
Phillies
desperately need a right-handed outfielder, and while GM Ruben Amaro has made noises about wanting to upgrade the bullpen and having minimal dollars available to tack onto payroll, it's tough to imagine Amaro passing up on Pence who could pair with
Domonic Brown
and
Shane Victorino
for a high-octane outfield over the next few seasons. But it's not just Philadelphia who needs outfielders -- Rosenthal mentions the
Braves
, who are deep in pitching depth and could move some of it for Pence. Atlanta is certainly a better match than Philadelphia, at least on paper, but the team has a $91 million payroll and has invested a ton of future dollars into second baseman
Dan Uggla
. Are they willing to add another player who will reach double-digits in his annual salary before long?
The odds are that Pence stays and Wade
starts the rebuilding process by dealing one of his two
starting pitchers in
Wandy Rodriguez
or
Brett Myers
-- at least for the rest of the season. The problem is that Wade or his replacement GM will be dealing with a market less voracious for Pence in the offseason. The best move Houston can do to secure its future would be to trade Pence on or before July 31, but the ownership change will torpedo the chances of a deal.
For more baseball news, rumors and analysis, follow @cbssportsmlb on Twitter or subscribe to the RSS feed.