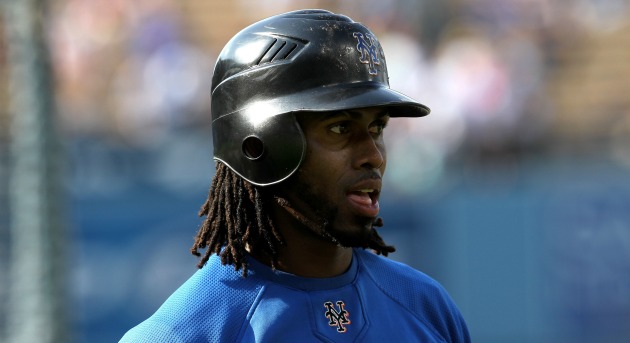 By Evan Brunell
The
Mets
and shortstop
Jose Reyes
may be preparing to enter secret talks about a contract extension, the
New York Post
reports.
This flies in the face of previous reports, with GM Sandy Alderson revealing in June that he had reached out to agent Peter Greenberg to discuss a contract but was told Reyes did not want to negotiate in-season, a common theme among impending free agents. But now, a source says these statements were likely a "smokescreen" designed to avoid media and fan scrutiny. This will allow both sides to negotiate a contract in peace, plus avoid any fan backlash should it leak that Reyes rejected a contract extension the public deems fair.
"I am no longer commenting on that possibility," Alderson said before Wednesday's game when asked if there will be no discussions with Reyes during the season. Another one of Reyes' representatives, Chris Leible, dismissed the notion to the
New Jersey Star-Ledger
, saying, "Nothing's changed since this first came up a few weeks ago."
A common contract term that has been bandied about for Reyes is
Carl Crawford
's megadeal with the
Red Sox
, a deal signed this past winter. Crawford's contract calls for $142 million over seven years, and reports have Reyes hoping to match or exceed that number. While Reyes may deserve those numbers based on his season to date, he doesn't deserve it when you look at his full body of work. Of course, that probably won't matter once (if) he hits the free-agent market and teams scramble to win the bidding.
But if Reyes is amenable to a shorter contract, the cash-strapped Mets will pounce before free agency. It won't preclude them from raising their bid in free agency, but as the
Post
reports, a strong offer probably won't go past five or six years at a $100-$120 million value.
The Mets do have ample money coming off the books after the year, as well as the next couple of seasons, but a $142-million outlay is still a big sum of money for the Wilpons to commit in light of their struggles trying to settle a lawsuit brought forth by Bernie Madoff's trustee, Irving Picard, who is charged with returning money to those who lost money under Madoff's Ponzi scheme. The Wilpons had a tight relationship with Madoff and while they lost money as well, they also made copious amounts of money. If Picard succeeds in recovering those monies, the Wilpons will have no choice but to sell the team and have already brought in a minority owner in David Einhorn to help meet financial commitments.
Before Reyes signs a contract, his sore left hamstring has to get better. He was out of the lineup for the fourth-straight game Wednesday and
Newsday
reports that a decision about a disabled-list trip would be made Thursday.
For more baseball news, rumors and analysis, follow @cbssportsmlb on Twitter or subscribe to the RSS feed.