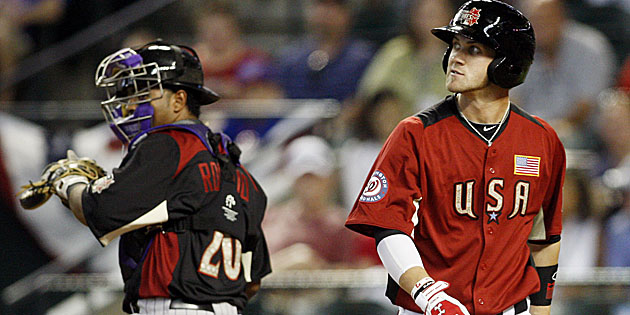 By Matt Snyder
PHOENIX -- Hey, we're here, might as well earn our keep. Here's a 3 Up, 3 Down for the Future's Game, which was played Sunday night in Chase Field between most of the game's best up-and-coming prospects. The U.S. team beat the World team 6-4 after taking control with a three-run eighth.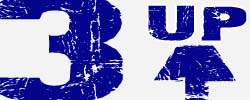 U.S. second basemen.
How about some production from the middle of the infield? Jason Kipnis, who isn't far away from joining the Cleveland
Indians
, led off the first with a home run to right off Julio Teheran, which is no small feat. When Kipnis left the game, Grant Green (A's organization) took over and didn't miss a beat. Green clubbed a pair of doubles, scoring once and driving in one, winning the Larry Doby MVP Award for the game. Eight total bases in four at-bats from second basemen isn't too shabby.
Jarred Cosart (Phillies organization) and Brad Peacock (Nationals organization).
In the small sample size of one inning -- no pitcher threw more than one all game -- these were the two most impressive pitchers. Both had efficient, 1-2-3 innings in which they made the opposing hitters look off-balance.
Jurickson Profar (Rangers organization).
Of all the impressive things we saw Sunday in Chase Field, Profar's triple ranks among the best. He crushed a ball into the right-center gap and just glided into third base. The speedy shortstop was rounding second base before an outfielder touched the ball and, had there been a bobble or anything, Profar would have scored. This kid can fly. And he's only 18.
---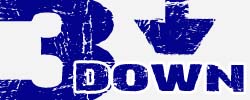 Bryce Harper (Nationals organization).
Harper looked overmatched against Teheran in the first inning, striking out looking on a 95-mph heater on the black. Of course, it's possible that's the best pitcher Harper has ever seen as he was only recently promoted to Double-A. Teheran has made two starts in the bigs this year. Harper grounded out to first base in each of his next two at-bats and then struck out -- following two straight doubles from his U.S. teammates -- in the eighth. Defensively, Harper made a huge throw home on a double -- showcasing his rocket arm -- but it was ill-advised. He had no shot at cutting the lead runner down and the back-side runner advanced an extra base. Hitting the cut-off man would have been the right move. In fairness to Harper, he's still really young (18), even for this game, but it was not a great showing.
Kelvin Herrera (Royals organization).
The 21-year-old reliever has dominated in both High-A and Double-A this season, but Sunday was a different story. The U.S. bats got hot against Herrera, and he had to be pulled before his inning was complete. Grant Green and Tim Beckham doubled back-to-back to tie the game at four. Harper's strikeout and a fly out to shallow center meant Herrera had a chance to get out of the inning with only limited damage, but then things got ugly again. Austin Romine singled and Nolan Arenado doubled to chase Herrera from the game. His final line: 2/3 inning, four hits, three earned runs, three doubles and the loss.
Drew Pomeranz (Indians organization).
He's only in Class-A, so it's possible Pomeranz was just a bit overmatched, but the World team really knocked him around the yard. He gave up a single, two-run homer, walk and double. The homer, walk and double all came with two outs, too. Pomeranz ended up being charged with all four runs the World team scored.
For more baseball news, rumors and analysis, follow @cbssportsmlb on Twitter or subscribe to the RSS feed.