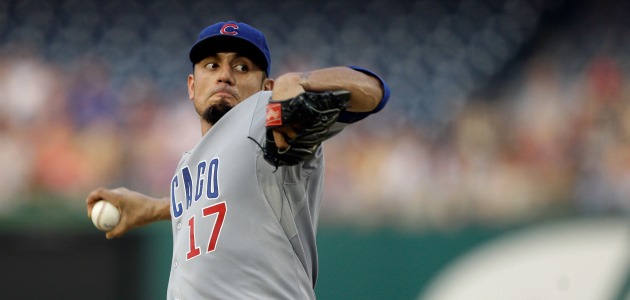 By Evan Brunell
The
Red Sox
are on the hunt for pitching and are eyeing
Matt Garza
of the
Cubs
, the
Chicago Tribune
reports.
Garza is certainly a good target for Boston as the club is scrambling for pitching. After opening the year with what was thought to be a deep rotation with
Jon Lester
,
Josh Beckett
,
Clay Buchholz
,
John Lackey
and
Daisuke Matsuzaka
, the latter four have either been injured or ineffective at points this season. Lately, their rotation has been a mish-mash of backups keeping the club in contention, so it's no surprise the Red Sox are targeting a pitcher. It's also no surprise that a big name like Garza is being targeted, as he is battle-tested in the AL East and would give the BoSox a fearsome rotation in coming seasons.
The one problem is that the Cubs, despite a 37-55 record, have eyes on competing sooner rather than later. With Garza locked up through 2013 through arbitration, Chicago is in no rush to deal Garza.
That doesn't mean it's impossible. The 27-year old is making $5.95 million this year and sure to see that contract skyrocket to at least double figures by the end of 2013. Even though the Cubs can afford that deal, it's still a pretty penny to pay. To deal Garza, the Cubs are going to ask for an arm and a leg -- right around what they gave up. That includes a major-league ready arm to replace Garza.
You won't see Boston dealing Buchholz anytime soon, but the BoSox could offer up Felix Doubront or
Kyle Weiland
, two young starters who have already made their major-league debut. While their ceilings are nowhere as high as Garza's is, they are capable of being middle-of-the-order starters. The Red Sox can also part with other young players, perhaps right fielders
Josh Reddick
or Ryan Kalish, given the club will need a right-fielder after the season. If the Cubs want to save some money in 2011, they could send
Kosuke Fukudome
to the Red Sox along with the remaining balance of his $14.5 million deal. As logical as that would be, Fukudome is a left-handed hitter, and the Red Sox need a right-handed outfielder.
Still, the pieces remain there for a trade to be consummated if both sides have the desire. It will be difficult to get any type of deal done, but it can happen.
Garza is currently racking up a 4.26 ERA, but his 2.86
xFIP
indicates he's a much better pitcher than his ERA indicates. He's struck out 99 batters in 95 innings, walking 33. As a member of the
Rays
from 2008-10, he's no stranger to the AL East and has shown his ability to handle the pressure of the division, which makes him all that much more attractive to Boston.
For more baseball news, rumors and analysis, follow @cbssportsmlb on Twitter or subscribe to the RSS feed.