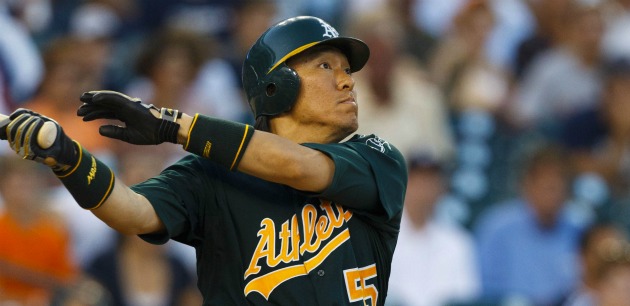 By C. Trent Rosecrans
You may have missed it last night, but
Hideki Matsui
hit his 168th home run of his Major League Baseball career. Why's that meaningful? Well, in addition to his 332 homers for the Yomiuri
Giants
in Japan, he has 500 in his professional career.
Sure, 500 combined isn't the same as 500 in MLB, but it's still a cool accomplishment. Sadaharu Oh, who hit 868 home runs, was impressed by the accomplishment.
"To keep hitting home runs during a tough schedule while maintaining your conditioning is not easy," Oh told the Associated Press.
Matsui was less impressed. "It isn't like I've been aiming for this, because I don't really combine numbers from Japan and here. To me, they are two separate leagues," he told the AP.
And he's right, there are differences. The ballparks in Japan are smaller, the ball is slightly different, the pitchers are different and the season is shorter. But still, 500 is a lot of home runs, even if you're in Little League. He was never quite the same feared power hitter here that he was in Japan, but he did produce for many years and has been a good big leaguer, adjusting his game to his new surroundings.
I lived in Japan when he first came up, and the hype he received is like nothing I've seen in the United States -- I'd say it's more like if Bryce Harper were a Yankee. That's how famous he was even in high school in Japan, where the high school baseball tournament is covered like the NCAA basketball tournament here.
The 500 mark has been achieved by 25 in MLB and eight in Japan -- and just one, Matsui, has done it combined between the two.
KOTCHMAN QUALIFIED: It's been easy to miss, but Rays first baseman Casey Kotchman is having a heck of a season. He needed four plate appearances Wednesday to qualify for the batting title. Kotchman not only got his four appearances, he picked up three hits, raising his batting average to .337, which is second in the American League to Boston's Adrian Gonzalez (.343). [Tampa Tribune]
UNHAPPY DAYS IN CHICAGO: It's been a severely disappointing season in Chicago, and both managers are none too happy with their teams. White Sox manager Ozzie Guillen had some choice words for his team after a loss to Bruce Chen and the Royals [Chicago Tribune]; Cubs manager Mike Quade targeted his ire on two young players, Starlin Castro and Darwin Barney. [Chicago Sun-Times].
STRONG COFFEY: Nats reliever Todd Coffey wasn't too happy about allowing a run in Tuesday night's game and reacted by throwing a water cooler -- nearly drenching Jerry Hairston. Let that be a lesson kids, another reason to wear high socks -- your pants don't get wet if Coffey spills on you. [Washington Post]
SWEET MUSIC: The New York Times music critic writes about the beautiful sounds of a ballpark. Listen to the sweet sound of summer. Maybe they should make it a MP3 so I can listen to it when there's snow on the ground.
JETER FATIGUE: Sick of hearing about Derek Jeter? Well, there's a browser tool for that. If you're using Google's Chrome, you can download the Jeter Filter to avoid all those pesky references to the Captain. Too bad this wasn't around a week or so ago (I kid, I kid). [Big League Stew]
CHAVEZ REVINE IS SAFE: The group that owns the Staples Center in downtown Los Angeles says that it is not interested in building a downtown baseball stadium, contrary to earlier reports. "It's not even an idea. It simply doesn't work," AEG president Tim Leiweke told ESPNLosAngeles.com.
CLOSER IN WAITING?: If Florida trades Leo Nunez, it's like Edward Mujica will get the nod as the team's closer. You fantasy baseball folk may want to remember that and get in on him early. [Miami Herald]
SORIANO CLOSE: Yankees setup man Rafael Soriano made his first rehab appearance Tuesday, allowing two runs on two hits in 1 1/3 innings at Class A Tampa. Yankees manager Joe Girardi said he didn't know yet how he'd use Soriano upon his return. [New York Daily News]
DARVISH WATCH: One of the big names we'll be sick of hearing come January or so is Japanese import Yu Darvish. The Angels, Yankees and Mets were among the teams that watched his last start. [YakyuBaka.com]
NO MO NO-NO: Monday the Royals' Luis Mendoza of the Royals' Triple-A team in Omaha threw a no-hitter and the next night the Double-A squad in Northwest Arkansas threw a combined no-hitter. Well, Wednesday the Royals not only didn't have a no-hitter, but they had another taken away when the Pacific Coast League stripped Mendoza of his no-hitter, changing an error call to a hit -- again. Monday night outfielder David Lough of the Storm Chasers was charged with an error. Then just minutes after Mendoza celebrated his no-hitter, it was changed to a hit. And then an hour later, it was changed back to an error. And now Wednesday it was changed back to a hit. Mendoza threw a no-hitter for Triple-A Oklahoma City in 2009. [Kansas City Star]
For more baseball news, rumors and analysis, follow @cbssportsmlb on Twitter or subscribe to the RSS feed.