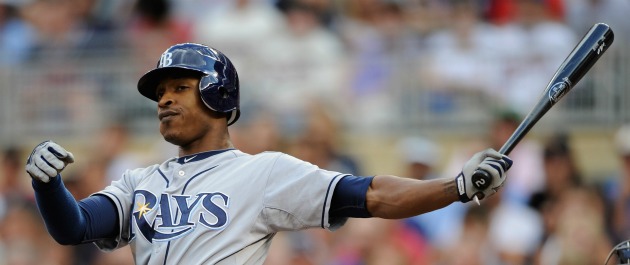 By C. Trent Rosecrans
If you weren't breathlessly following the baseball folk on Twitter around midnight Friday night, you missed the big
B.J. Upton
trade.
Or what turned out not to be a trade -- but Upton is still a Ray. For now, at least. ESPN.com's Buster Olney tweets the interest in Upton "is growing," but warns it may be "price-shopping comparison" to Hunter Pence and Carlos Beltran.
Upton was removed from Friday night's game in Kansas City in the eighth inning, about time word was coming out that the Rays had called up their top position prospect, Desmond Jennings.
After the game, reporters rushed to Upton, who told them he hadn't been traded. Instead, the team designated shortstop Reid Brignac and plan on using Jennings every day in the leadoff spot and in left field.
Upton would certainly be an interesting piece to a lot of teams -- the 26-year-old (who turns 27 next month) has one more year of arbitration before becoming a free agent following the 2012 season. The second-overall pick of the 2002 draft reached the big leagues at 19 in 2004 before really sticking in 2007, when he played 129 games. Since then, he's been a frustrating player, showing all the tools, but failing to put it all together at once and sometimes leaving teammates, his manager and fans alike questioning his effort.
This season he's hitting .232/.312/.400 with 15 home runs and 52 RBI to go along with 23 stolen bases. He's making $4.83 million this season and will likely get a bump in the arbitration process.
The Rays could just be putting Upton out on the trade block to see what the market will bear. With a player at a premium position such as center field, it's wise to see what he could bring in return -- much like the Diamondbacks did with his younger brother, Justin, this past offseason. It could also prove to be a long-term solution for a team like the Nationals, who are desperate for a center fielder. He could also produce some pop for any team looking for an offensive jolt.
One thing to consider may be that the Rays don't necessarily see themselves out of the playoff race. Tampa Bay currently sits 8 1/2 games behind the Red Sox in the AL East and 6 1/2 games behind the Yankees in the wild-card race. The reason for the optimism is their schedule. The team's next 19 games are against the Royals, A's, Mariners and Blue Jays. The Rays follow that stretch with three games in New York and another three in Boston.

That stretch would put the Rays through the non-waiver trade deadline before making a determination whether to buy or sell. It would be interesting to see if Upton would get through the wiaver process. If he is indeed the piece the Nationals covet, they would have a good chance of winning a waiver claim on Upton and then the two teams would have a chance to work out a trade.

As for the Rays, it makes sense to put him out there -- after all, listening doesn't cost a thing.
For more baseball news, rumors and analysis, follow @cbssportsmlb on Twitter or subscribe to the RSS feed.