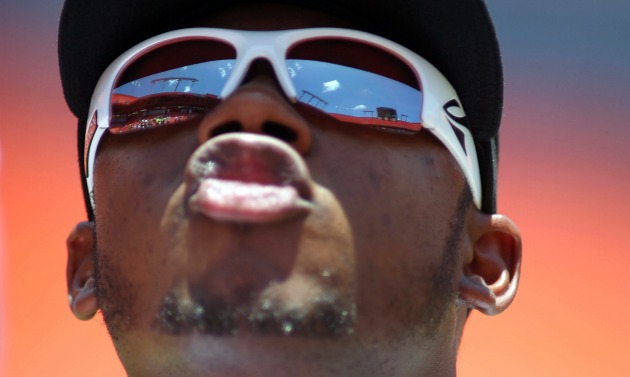 By Evan Brunell

Hanley Ramirez
fired back at "Mr. Marlin" Jeff Conine, who spent eight years with Florida in a 17-season career before taking a job as special assistant in the
Marlins
' front office. Conine made remarks last week on the radio about how he would trade Ramirez if it were up to him. Conine added that Ramirez frustrates him on a nightly basis, due to what has become a well-chronicled history of Ramirez not trying as hard as he can to complete a play.
"If he's got a problem, just come over and talk to me like a man," Ramirez told the
Miami Herald
. "Don't be a chicken, talking on the [radio], because whatever you say is going to stay out there."
Ramirez added that he's surprised at the timing of the remarks, which coincided with the Marlins reversing their skid and posting a 18-13 record under octogenarian Jack McKeon, the new manager. Ramirez himself has finally snapped out of a season-long slump that had him hitting .200/.298/.295 on the morning of June 21, a far cry from the dominating force the 27-year-old had fashioned himself to. Since then, Han-Ram is at .327/.413/.545 with six home runs in 126 plate appearances, swiping six bases as well.
"Why now?" The shortstop questioned, saying he was friendly with Conine prior to the comments. "There are a lot of worse guys than me out there. But nobody knows because nobody pays attention. When I'm on the field, I'm just being me. I'm playing my game. It's how I've got to play. Nobody's going to change me. What I get paid for is to win, respect each other, respect the organization. That's what I do."
Ramirez, who won the Rookie of the Year Award back in 2006, plus a batting title and second-place MVP finish in 2009, has his name littered among Florida's all-time leaderboards, showing up more impressively than Conine has. Ramirez is currently second all time in franchise history in batting average (.307) with Conine seventh at .290. He's fourth in Marlins history in OPS with a .889 mark, Conine placing 10th. Runs scored? Ramirez is second with 615, just behind Luis Castillo's 675 while Conine is sixth. Doubles, triples, home runs ... all the same story: Ramirez ranks near the top, Conine's back in the pack -- except for RBI, where Conine holds a 120-run lead.
In hits, Ramirez, who stated a desire to go into the Hall of Fame as a Marlin, just passed Conine, with 1,010 career hits as a Marlin. Conine has 1,005.
"I think he wants to be Mr. Marlin forever," Ramirez said of Conine. "It won't happen. I'm coming, baby. I think I'm going to be Mr. Marlin. That's my goal now. I wasn't thinking about that [before Conine's comments]."
For more baseball news, rumors and analysis, follow @cbssportsmlb on Twitter or subscribe to the RSS feed.