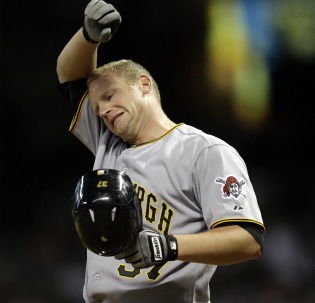 By Evan Brunell

Whether the
Pirates
can pull off a trade for a first baseman or not,
Lyle Overbay
is in danger of losing his job, the
Pittsburgh Post-Gazette
reports.
"Lyle's had a large volume of at-bats," manager Clint Hurdle said. "We had a heart-to-heart conversation a while ago, back when he took three days off. He has enough experience in this game to understand there is a need now. Is there time to catch a spark? Yes, but we need to get something done sooner rather than later."
Overbay is hitting just .229/.301/.345 in 383 plate appearances, numbers that would have earned a benching long ago had there been an acceptable alternative at first. Overbay's prime came with a reputation for a solid batting average and plenty of doubles, but that's fallen off in recent years. Still, even 2010's line of .243/.329/.433 in Toronto last season would be a dramatic improvement, as the left-hander has hit for zero power this season. Age may be catching up to him, as he's having trouble with the fastball this season like never before and his plate discipline has eroded to the point where pitchers can make the 34-year-old get himself out by swinging at pitches outside the zone.
"We have obviously anticipated more," Hurdle added. "The thing I tell him he has control of is his work ethic and the ability to keep working at it. Sometimes, you just have seasons where it seems like it is a grind all year long, you are just pushing that rock uphill all year. I've had those and I probably think that is where Lyle is right now."
Garrett Jones
has been a problem in right field, one that the Pirates would like to address, and he could potentially move to first if and when he's kicked out of the outfield. That could come upon a trade or simply
Jose Tabata
and
Alex Presley
rehabbing from injuries. There's also
Steve Pearce
, who was recently activated from the disabled list. Pearce hasn't been much better in the power department this season in the short time he was on the team, but does boast a career .519 slugging percentage in the minors. If he can get consistent playing time in Pittsburgh, it's possible he could be decent. Yet, Pearce is 28 with intermittent playing time in the bigs with poor production, so Pittsburgh still needs to look for an outside bat to bring in.
For more baseball news, rumors and analysis, follow @cbssportsmlb on Twitter or subscribe to the RSS feed.