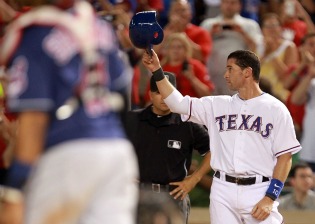 By C. Trent Rosecrans
The Rangers' Michael Young collected two hits Sunday night against the Indians to reach 2,000 for his career.
Both hits were slow rollers up the third base line that failed to draw a throw from Cleveland third baseman Lonnie Chisenhall.
Young, 34, the 11th fastest player in history to reach 2,000 hits, doing it in his 1,621st game -- behind Tris Speaker (1,602) and ahead of Ted Williams (1,638).
Before Sunday's game, Rangers manager Ron Washington told reporters he likes Young's chances at reaching 3,000.
"If he stays healthy, [he could reach the milestone]," Washington said, according to MLB.com. "This year, knock on wood, he's got the normal aches and pains, but if he stays away from missing time, Michael will figure out how to get 180, 200 hits every year. That's a thousand hits [more]. He could pick up another 50, 60 before the year is over, then he only has to get [950]. I think he's got a chance to. He's only 34, so he'll have to play roughly until his 40s. He doesn't look like he's slowing down."
Well, that's a little optimistic. Young has five 200-hit season in his career, accomplishing the feat five years in a row from 2004-2007. Young saw a dip in both his batting average and on-base percentage in 2008 and 2010, bouncing back the next year each time, including a .336/.372/.497 line this season. The problem is that age -- unless you're, say, Barry Bonds -- catches up to most players. Nobody (save Bonds) gets better from 34-39, you wear down, slow down and age like a human. That's going to make Young's chance of 3,000 tougher. While he's gotten to 2,000 relatively quickly, he didn't become a regular until 2002 when he was 25.
Of the 28 players in the 3,000 hit club -- only seven got their 2,000th hit at 34 or older, and of those only one was older than 34 (Cap Anson, who played until he was 45).
Young is the fifth player this season to reach 2,000 hits, joining Orlando Cabrera, Carlos Lee, Albert Pujols and Scott Rolen. Young is younger than each of those other than Pujols.
For more baseball news, rumors and analysis, follow @cbssportsmlb on Twitter or subscribe to the RSS feed.