By Evan Brunell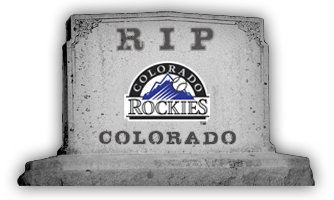 Another season gone, another disappointment for 29 teams as one is immortalized forever. Let's take a look back at 2011 and forward in Eye on Baseball's R.I.P. series...
Team name:
Colorado
Rockies
Record:
73-89, 4th place, 21 games back
Manager:
Jim Tracy
Best hitter:
Troy Tulowitzki
-- .302/.372/.544 with 30 HR, 105 RBI
Best pitcher:
Jhoulys Chacin
-- 11-14, 31 GS, 194 IP, 3.62 ERA, 150 K, 87 BB
The Rockies season didn't go as intended. Instead of competing for the division title, the club barely avoided the cellar and saw their rotation ripped up.
Jorge De La Rosa
dealt the big blow, suffering an injury that required Tommy John surgery while
Ubaldo Jimenez
found himself packed off to Cleveland. With a disappointing season in the books, Colorado is ready to plunge ahead and change their fortunes next season.
2011 SEASON RECAP
The Rockies got the season off to a nice start, finishing April with a 17-8 record, enough to pace the division by four games. The wheels fell off in May, though, with two separate four-game losing streaks in the month. There were also two separate instances of a three-game losing streak, including one to end the month at 8-21, slipping out to 4 1/2 back. The first game of a double-header on May 24 was an especially big blow, with De La Rosa exiting the game after 2 1/3 innings and later undergoing Tommy John surgery. The left-hander had signed a two-year, $21.25 million deal in the offseason.
The rest of the season basically played out the string, as the team hovered around .500 the next three months, dealing Ubaldo Jimenez at the trade deadline. September saw a collapse, suffering a nine-game losing streak that perfectly capped the year for Colorado. The silver lining is that the team will get a high draft pick in next year's draft and restocked its pitching depth, but the year was still a big letdown.
2012 AUDIT
Despite nearly finishing in the cellar, the Rockies are poised to contend. The offense isn't an issue, anchored by Tulowitzki and
Carlos Gonzalez
. Even the pitching figures to rebound now that the club will get a full year of Chacin and a projected second-half return of De La Rosa. The rest of the rotation is a question mark, although the club will look for
Alex White
and
Drew Pomeranz
, part of the return in the Jimenez trade, to fill out the rotation. If
Juan Nicasio
can return from breaking his neck to round out a solid front five, the bullpen will be able to end games.
FREE AGENTS
Aaron Cook
, SP (mutual option that will be declined by the team)
Jason Giambi
, 1B (mutual option)
Mark Ellis
, 2B
Kevin Millwood
, SP
J.C. Romero
, RP
OFFSEASON FOCUS
The Rockies have been linked to Michael Cuddyer hot and heavy over the last few months. Cuddyer would be a great fit for most teams, but the Rockies need to pass. There are more pressing concerns, and the outfield is set with a Seth Smith - Dexter Fowler - Carlos Gonzalez setup, although Smith will platoon. The Rox are rumored to want to shop Ty Wigginton, but he is a great option to platoon with Smith, plus Wiggy can play multiple positions off the bench.
The priority the Rockies have to go after here is a starting pitcher. There's just too many question marks beyond Chacin, who is hardly capable of anchoring the rotation. There needs to be at least one other pitcher the team can count on. Edwin Jackson would be an intriguing sign, but there isn't much room to maneuver in the payroll. Better for Colorado to take the plunge and sign some high-risk, high-reward pitchers like Rich Harden and Erik Bedard. The rest of the rotation is also high-risk for various reasons, but the more pitchers you add, the better chances you have of hitting on a couple. The Rockies could also go the trade market here and could revisit Wandy Rodriguez from the Astros if Houston capitulates on eating a larger percentage of his contract.
Hang onto Huston Street. The market will be flooded with elite and solid closers, plus a good amount of quality relievers. It will be difficult to get a good return for Street, so the team would be better off hanging onto him to create a lockdown bullpen that can take the slack off the rotation and be used as a trade chip in July.
Resign Mark Ellis. Ellis was a sparkplug upon being dealt to the Rockies and provides fantastic defense up the middle. The offense has plenty of thump, so Colorado should focus on shoring up middle-infield defense.
Sign Omar Vizquel or acquire another middle infielder capable of playing short and third. Vizquel may not be interested in Colorado, but there are plenty of middle infielders the Rockies can sign or trade for. The team needs a backup infielder primarily, but most importantly, needs a viable option behind Ian Stewart at third base should Stewart crash and burn yet again. Jerry Hairston, Jr., with his oodles of versatility, might also be a nice fit.
Don't trade Chris Iannetta. Having quality catchers is a rarity and while the team is high on Wilin Rosario, the hot prospect needs more time in the minors. If Rosario is ready by mid-July, that's a great problem to have, but Colorado shouldn't handicap itself by entering Opening Day with a question mark in Rosario's ability to sustain a full season in the bigs.
For more baseball news, rumors and analysis, follow @EyeonBaseball on Twitter or subscribe to the RSS feed.