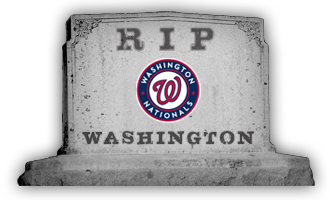 By Evan Brunell

Another season gone, another disappointment for 29 teams as one is immortalized forever. Let's take a look back at 2011 and forward in Eye on Baseball's R.I.P. series...
Team name:
Washington
Nationals
Record:
80-81, third place, 21.5 GB
Manager:
Jim Riggleman/Davey Johnson
Best hitter:
Mike Morse -- .303/.360/.550, 31 HR, 95 RBI
Best pitcher:
Jordan Zimmermann
-- 8-11, 161 1/3 IP, 3.18 ERA, 31 BB, 124 K
2011 SEASON RECAP
The Nats were exactly 13-13 at the end of April, and it was a trend that continued all the way through the first half, with the club jumping out to a 46-46 record in the first half. It was an unexpected surge for Washington, who was expected to continue along its growth, but at a slower clip. It was quite the impressive display, especially since the club didn't have Stephen Strasburg and big-ticket signing Jayson Werth struggling to a .215/.319/.362 first half, along with Ian Desmond (.223/.264/.308).
The second half saw the return of Strasburg and Chien-Ming Wang along with rebounds from Werth and Desmond. But those improvements didn't show up on the field, with a 34-35 record. In essence the team was exactly the same. Players who fell off in the second-half include Danny Espinosa, Laynce Nix, Livan Hernandez and Zimmermann, who was shut down at the end of August.
2012 AUDIT
The Nationals are in a pretty good position for 2012. Stephen Strasburg is back from Tommy John surgery and looking as electric as ever. Paired with Jordan Zimmermann, Washington has a strong one-two punch in the rotation. Offensively, the team is coming along and with a rebound year from Jayson Werth could be sneaky-good. This is a team on the rise, and the Nats smell blood in the NL East.
FREE AGENTS
Rick Ankiel
, CF
Todd Coffey
, RP
Alex Cora
, IF
Jonny Gomes
, OF
Livan Hernandez, SP
Laynce Nix, OF
Ivan Rodriguez
, C
Chien-Ming Wang, SP
OFFSEASON FOCUS
Bring back Davey Johnson as manager. He wants to come back and there's no reason not to keep Johnson. The team seemed to respond to him and he has enormous cachet. Plus, and this is just speculation, but he would probably sign a cheaper deal than any of the other big-name managers available.
Sign Prince Fielder. While Albert Pujols would be a great get, Fielder is younger and frankly, more gettable. It would be the splash Washington needs to make the fan base perk up and put the club in prime position to contend in the next several years. The Nats have long said that the money will be there when it's time to compete. Owner Ted Lerner time to step up. The club will have limited flexibility if there is no payroll bump. If Lerner is miserly with his money, the rest of the moves here still should occur, but Adam LaRoche would simply remain as first baseman.
What to do with incumbent first baseman LaRoche if the team can sign Fielder? Tough call. His trade value is near zero and coming off the bench isn't a great idea. Washington either needs to bite the bullet and chew up the remaining $9 million on his deal ($8 million due in 2012, $1 million buyout in 2013 on a $10 million mutual option), or trade him in a swap of hefty contracts.
In the R.I.P. piece for the Tampa Bay Rays, I said that the Rays need to trade B.J. Upton to the Nats for Ian Desmond and Roger Bernadina. (Washington would likely also need to give up a solid minor-leaguer.) This would fulfill Washington's need for a center fielder, and Upton could fetch some nice compensatory picks if he has a great year and departs town as a free agent.
Moving Desmond allows the Nationals to put second baseman Danny Espinosa back at his natural spot of shortstop, and reports suggest Espinosa could be an even better fielder than Desmond. To fill the second-base vacancy, Washington can promote Stephen Lombardozzi.
The rest of the team's needs have to be fulfilled for small money, short years or through internal replacements from the minors with Upton, Fielder and Jayson Werth occupying a big chunk of payroll. The bench needs some fortification on offense. Adam Kennedy, Jerry Hairston Jr., Kelly Johnson, or Mark DeRosa would all make sense.
Extend Ryan Zimmerman. Zimmerman is one of the best third baseman -- no, one of the best players -- in the game. He's a free agent after 2013, and the Nats simply cannot let him go.
For more baseball news, rumors and analysis, follow @eyeonbaseball on Twitter or subscribe to the RSS feed.