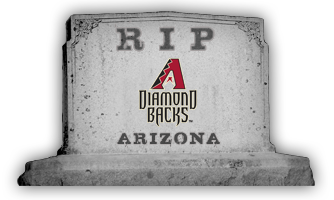 By C. Trent Rosecrans
Another season gone, another disappointment for 29 teams as one is immortalized forever. Let's take a look back at 2011 and forward in Eye on Baseball's R.I.P. series...
Team name:
Arizona
Diamondbacks
Record:
94-68, 1st place NL West. Lost to
Brewers
3 games to 2 in NLDS
Manager:
Kirk Gibson
Best hitter:
Justin Upton
-- ..289/.369/.529 with 31 HR, 88 RBI, 21 SB
Best pitcher:
Ian Kennedy
-- 21-4, 222 IP, 33 GS, 2.88 ERA, 1.086 WHIP, 198 SO, 55 BB
2011 SEASON RECAP
Nobody expected much from the Diamondbacks and even when they did surprise by leading the National League West, nobody thought they could hold off the Giants. Not only did they hold off the defending champs, they left them in the dust. The Diamondbacks were ruthless in making decisions early in the season, demoting or just flat-out getting rid of players that didn't produce, like Armando Galarraga, Barry Enright, Wade Miley and Russell Branyan. The Diamondbacks won 16 of 18 in late August and early September, while Ian Kennedy became a legitimate Cy Young candidate. The team also discovered it has the makings of a stout rotation with Kennedy, Daniel Hudson, Joe Saunders and Josh Collmenter. They even survived the season-ending injury to Stephen Drew, winning despite his absence.
2012 AUDIT
The Diamondbacks are in a pretty good situation. So it seems they have some good, young talent that's not going to cost too much -- something that's very important to the Diamondbacks' front office. The team that they have should only get better and develop. There are small spots to fill, but nothing huge. And with Stephen Drew coming back, the team should be even better than they were in the playoffs.
FREE AGENTS
RHP
Jason Marquis
1B
Lyle Overbay
2B
Aaron Hill
($8 team option)
LHP
Zach Duke
($5.5 team option)
OF
Xavier Nady
SS
John McDonald
C
Henry Blanco
($1.5 mutual option)UTIL Willie Boomquist ($1.1 mutual option)
OFFSEASON FOCUS
Remember last offseason when the Diamondbacks were listening to offers for Justin Upton? Don't do that.
Hill was acquired in a change-of-scenry trade with the Blue Jays in August and it seemed to work for both teams. Hill played well for the Diamondbacks -- but not $8 million well. The team should decline his option, but see if he'd entertain an offer for less. The other side of that trade, Kelly Johnson, talked about returning at a discounted price. If Hill's not interested in coming back on the cheap, Johnson may be.
The team could upgrade in left field, but that's not a pressing need. And even if it were, there's not a lot of money to spend on the likes of Josh Willingham. There should be enough on the non-tender scrap pile to bring in competition for the spring and push Gerardo Parra.
There's a lot of talk about the White Sox trying to trade Carlos Quentin -- at least listen and see how desperate they are to get rid of him. If they take the bulk of his contract, he wouldn't be a bad fit to put in left.
For more baseball news, rumors and analysis, follow @eyeonbaseball on Twitter or subscribe to the RSS feed.