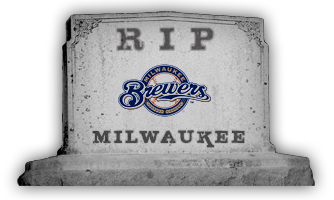 By C. Trent Rosecrans
Another season gone, another disappointment for 29 teams as one is immortalized forever. Let's take a look back at 2011 and forward in Eye on Baseball's R.I.P. series...
Team name: Milwaukee Brewers
Record: 96-66, 1st place in NL Central. Defeated Arizona 3-2 in NLDS, lost NLCS 4-2 to St. Louis.
Manager: Ron Roenicke
Best hitter: Ryan Braun -- .332/.397/.597 33 HR, 11 RBI, 33 SB, 38 2B, 6 3B
Best pitcher: Yovani Gallardo -- 17-10, 3.52 ERA, 1.215 WHIP, 207 K in 207 1/3 IP
2011 SEASON RECAP
The Brewers' offseason in 2010 was playoffs or bust -- and they made it. Despite early injuries to Zack Greinke and Corey Hart, the Brewers were able to stick around the top of the standings for the first half of the season and then took the lead for good after winning on July 27. From July 26 to Aug. 28, Milwaukee went 27-5 to go from a half-game back in the division to 10 1/2 games up. Braun and Prince Fielder both put up MVP-type numbers, and while their new starters, Greinke and Shaun Marcum, didn't challenge for the Cy Young, they were good enough and very good at times (at least in the regular season).
2012 AUDIT
Well, there's one big question mark. A really, really big question mark in Prince Fielder. Even though it's not much of a question, most expect him to leave Milwaukee, including Fielder. But Fielder's not the only free agent the Brewers have to deal with in the offseason. The team has seven free agents, plus a club option on Yuniesky Betancourt. That said, none of the others on the list come close to leaving a void anywhere near the one Fielder will leave. However, the team will have to seriously look at improving its infield.
FREE AGENTS
1B Prince Fielder
RHP Francisco Rodriguez
SS Yuniesky Betancourt ($6 million option)
RHP LaTroy Hawkins
UTIL Jerry Hairston Jr.
RHP Takashi Saito
UTIL Craig Counsell
OF/1B Mark Kotsay
OFFSEASON FOCUS
Sign Albert Pujols. No, I'm kidding. The Brewers are unlikely to be able to afford to keep Fielder around, much less sign Pujols. Make a goodwill offer to Fielder and let him turn it down to get every last dollar, that way you can tell your fans you tried and it wasn't up to you. If that's not enough to let you sleep at night, go see Moneyball and look into signing Scott Hatteberg -- it worked when the A's lost Jason Giambi. Mat Gamel is the internal option if you stand pat at first.
Decline Betancourt's option -- it costs you $2 million, but that's a small price to pay not to have Yuniesky Betancourt be your shortstop. Last offseason it cost the Royals Greinke, so consider yourself lucky. The replacement at shortstop doesn't need to be Jose Reyes or Jimmy Rollins, just someone who can field the position. If the Red Sox get rid of Marco Scutaro, he could be available for below sticker price -- see if he's interested in returning to the Brewers, who developed him.
How about signing Aramis Ramirez to play third base? He'll be costly, but nowhere in the Fielder-Pujols range. He also adds to the offense and helps give Ryan Braun some protection. Casey McGehee hasn't proven himself to be worthy of a spot in the everyday lineup. And if Ramirez regresses any more defensively, he can shift to first base. Ramirez has remarked about just how much he likes Chicago, and Milwaukee is close enough.
For more baseball news, rumors and analysis, follow @cbssportsmlb on Twitter or subscribe to the RSS feed.