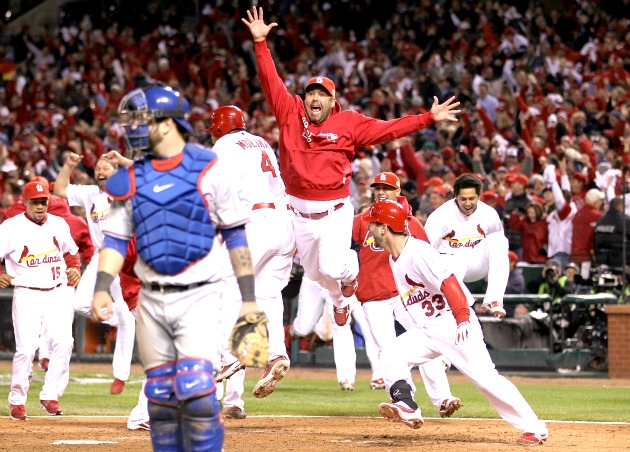 By Matt Snyder
ST. LOUIS -- Wow. What a game. I'm trying to guard against hyperbole, but I feel like we just witnessed one of the greatest baseball games in World Series history -- one that will go down in history and still be talked about 30 years from now. I could easily be wrong, but that's how it feels right now. Still, time to buckle down and hand out some grades.

Baseball.
That's all we need to put here. It's a sport that many people like to call boring and for some reason it's become cool for fans of other sports -- mostly football -- to constantly bash the sport. It's probably because of the "America's Pastime" moniker, but still a bit unfair to be so reviled by the people who aren't die-hard fans. Thursday night was baseball's big night. Game 6 was one for the ages. It most certainly wasn't perfect (see the D and F grades below), but in the end, this was one of the most exciting baseball games in memory, and we saw the
Cardinals
get within one out of being eliminated twice and still survive with the win in front of a record-setting Busch Stadium crowd. If you watched this game and weren't exhilarated, you don't have a pulse. Period.

David Freese
tripled to tie the game in the ninth and then homered to win it in the 11th. So he's the hero. But, man, it was a rough night before that. We'll knock him down to a B for the awkward moment running into the rail in foul territory and the dropped pop up at third base, not to mention going 0-for-3 and leaving a pair of men on base before his huge triple in the ninth. Obviously the two huge hits erase all of that, but in looking at the whole game, I'm not going to forget the bad. He'll deal just fine a B, considering his team won and he's now etched in history.

The
Rangers offense
pounded out 15 hits and scored nine runs. They had two doubles and three home runs. So how can I possibly be giving them a C? Well, let's see ... they left 12 men on base.
Twelve!
When you get 15 hits and the Cardinals hand out five walks and three errors, you need to score more than nine runs, as weird as that sounds. It's like through six innings the Cardinals were trying to let the Rangers win and the Rangers just refused to let them. Things changed after that, but we cannot simply ignore what happened in the first half of the game.

The
Cardinals' pitching and defense were sloppy
early in the game. Starting pitcher
Jaime Garcia
didn't have his good stuff and received a quick hook.
Matt Holliday
made a horrible play in left field when he tried to allow
Rafael Furcal
to come all the way out to left field and make a catch -- then the two collided. Relief pitcher
Fernando Salas
air-mailed a throw to second base into center field. Freese had the aforementioned defensive gaffes. Rangers pitcher
Derek Holland
advanced to second on a wild pitch and then scored. Again, what the Cardinals did in the late innings more than made up for this, but it has to be a concern before Game 7.

The
Rangers made mistakes, too
.
Michael Young
had two pretty bad errors.
Elvis Andrus
uncharacteristically played a sure third out into a single when he hesitated on a grounder off
Daniel Descalso
's bat.
Alexi Ogando
walked the only two hitters he faced. And we can't be sure that
Nelson Cruz
could have caught Freese's triple, but he really looked lost out there. For a team that prides itself on defense, we've seen an awful lot of defensive miscues this series.
For more baseball news, rumors and analysis, follow @EyeOnBaseball on Twitter or subscribe to the RSS feed.