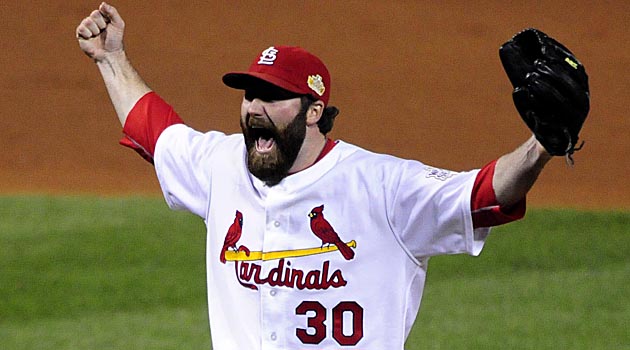 By Matt Snyder
ST. LOUIS -- Game 7 of the World Series wasn't nearly as exciting as Game 6, but was that even possible? I'd say no. We still saw a good game for about six innings and
Cardinals
fans certainly have no issue with how everything went down. Let's grade the game, just as we've done with the other six.

The
Cardinals bullpen
. Once
Chris Carpenter
was out of the game, it felt like the
Rangers
might have a shot at creeping up and at least making this game close. Instead,
Arthur Rhodes
,
Octavio Dotel
,
Lance Lynn
and
Jason Motte
were dominant and efficient for three innings, leaving no doubt who the champions were. The four pitchers combined to retire all nine of the hitters they saw, needing only 34 pitches to do so. While we're here, all Cardinals players are obviously elated and deserved congratulations, but how about Arthur Rhodes? He's 42, made his major-league debut in 1991, was cut by the Rangers earlier this season and had never even pitched in the World Series until this season. Now he has a ring that he earned (yes, he would have gotten one had the Rangers won, but that's really not the same).

I did name
Carpenter
the hero and he deserves major kudos for getting the job done on three days' rest, and, even more so, for doing it without his best stuff. But that latter part is what knocks him down to a B. He allowed the first four batters on base and, had
Yadier Molina
not picked
Ian Kinsler
off first, the damage could have been far worse. Carpenter himself would admit an outing where he gives up six hits and two walks in six innings is a B for himself, I'm sure. No shame in this B, though. It's like having the flu and not studying for two days leading up to a test and still getting a B. You'd be ecstatic with it. Just as Carpenter surely is with his outing.

The
Michael Young
Schism has
already been noted by my esteemed colleague Gregg Doyel
. Friday night, we once again saw the good and the bad. Young doubled in
Josh Hamilton
in the first inning, giving the Rangers a 2-0 lead with no one out. But Young would follow that up with two strikeouts and a pop out. Defensively, Young looked horrible in trying to snare a foul ball pop up, but seconds later made a nice diving stab of a line drive to end the inning.

Poor
Ron Washington
seemed to have every move he made blow up in his face. On the big stage,
Matt Harrison
seemed rattled from the get-go,
Scott Feldman
was brutal,
C.J. Wilson
hit the first batter he faced -- forcing in a run since the bases were loaded -- a bunt wasted an out in the fifth and Washington just never changed his lineup. Cardinals manager Tony La Russa switched things around in Game 7 as a reaction to how his team had been playing and it worked. Judging manager is mostly second-guessing, but things didn't seem to work out for Washington, so he gets a D.

Why were the
Rangers' pitchers
trying to help the Cardinals so much? Falling behind in counts to most hitters, walking six guys, hitting two guys, serving up meatballs when they did work within the strike zone. Iit was a veritable clinic on how to not pitch anyone -- much less a good-hitting ballclub like St. Louis.
Mike Gonzalez
and
Alexi Ogando
were fine, but the game was over by then. Harrison, Feldman, Wilson and
Mike Adams
dug a hole while the Cardinals' pitchers buried the Rangers' season.
For more baseball news, rumors and analysis, follow @EyeOnBaseball on Twitter or subscribe to the RSS feed.