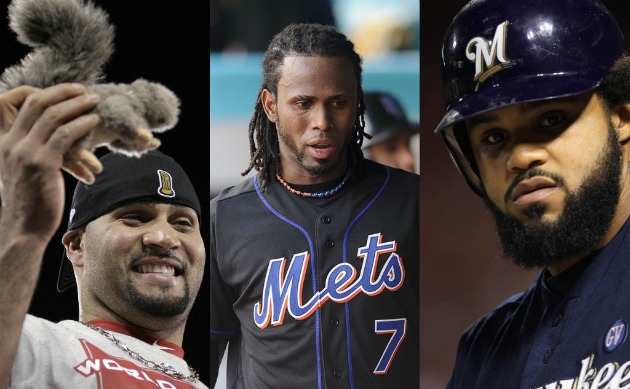 By C. Trent Rosecrans
With open free agency set to hit us at 12:01 a.m. Thursday, it's worth taking a quick look at what every single team is going to be looking for. We've already done detailed breakdowns in the R.I.P. series, so here are some quick hitters for the National League:
East
Atlanta Braves | R.I.P.
Needs: shortstop, corner outfielder, relief pitching
Money to spend?: Not much. The Braves' biggest need was getting rid of Derrek Lowe, and they did that and have saved $5 million to boot. The team has good, young starters, but put too many innings on their bullpen. They'll need more bullpen arms and also a bat in left field and a shortstop. With Tyler Pastronicky just about ready, the team could use a veteran backup just in case he doesn't work out.
Miami Marlins | R.I.P.
Needs: starting pitching, center field
Money to spend? Oh yeah… with the team preparing to move into a new stadium, owner Jeffrey Loria is expected to make a splash in free agency and could raise payroll to the $100 million range. South Florida will be a favorite of baseball agents in the offseason who will use the Marlins as leverage -- they may even be more popular than the "mystery team" of the past off seasons. The Marlins will be rumored as a possible landing point for nearly every big free agent. The question is, which ones -- if any -- will actually take their talents to South Beach.
New York Mets | R.I.P.
Needs: starting pitching, closer, relief pitching, middle infield
Money to spend? There are plenty of questions about the Mets ownership group, so nobody outside GM Sandy Alderson really knows what's going on and how much money he has to play with. It doesn't look like the team will go crazy in trying to re-sign Jose Reyes. The team will instead hope to improve its bullpen and rotation.
More Free Agency
Position rankings
Philadelphia Phillies | R.I.P.
Needs: shortstop, corner outfielder, closer, relief pitching, first base
Money to spend? It seems like they always find it when they need it, so there's no real concern about the budget. Even with Roy Oswalt likely to leave Philadelphia, there are few worries about the team's rotation. The bullpen, however, will need to be addressed. Ryan Madson may be re-signed and used as the closer, but the Phillies need middle-innings guys, as well. Left field is still an issue and the team could look to upgrade there, but will also need to address first base while Ryan Howard recovers from his Achilles injury. John Mayberry Jr. can play first, but moving him there creates a spot in the outfield.
Washington Nationals | R.I.P.
Needs: center field, starting pitching, relief pitching
Money to spend? Oh yeah. Like the Marlins, the Nationals have money to spend and unlike the Marlins, they have shown a willingness to actually use it. Last year the team overspent on Jayson Werth, something that certainly caught the eyes of free-agents-to-be. Several top names will certainly be courted by the Nationals, including Albert Pujols, Prince Fielder and C.J. Wilson. The Nationals really can't be counted out on anyone.
Central
Chicago Cubs | R.I.P.
Needs: first base, third base, closer, relief pitching, right field
Money to spend? The Ricketts opened the pocketbooks for their general manager, so it's unlikely they'll close 'em for players. Epstein says he wants to build a team from the bottom up, but that takes time and there will be pressure to win right away, and free agency will be part of that. Expect the Cubs to at least talk to the likes of Pujols and Fielder, even if they don't sign them. With Epstein in the fold, it'll certainly be interesting to see what route the Cubs take.
Cincinnati Reds | R.I.P.
Needs: closer, relief pitcher, corner outfielder, shortstop
Money to spend? Not much. It looks like the team will stand pat in the rotation, but after not picking up the option on Francisco Cordero, Cincinnati will need someone to finish out games. Last year Walt Jocketty stayed quiet during the offseason, but this winter that may not happen. However, the team is more likely to use the trade market than spend big in free agency.
Houston Astros | R.I.P.
Needs: shortstop, relief pitching
Money to spend? The Astros are in full-on rebuilding mode, as evidenced by their July fire sale. There's also the holdup of the sale of the team and the possible switch to the American League. If Jim Crane is approved by MLB, he may want to find his own general manager. The Astros won't be much of a player in the free agent market, looking for low-priced.
Milwaukee Brewers
|
R.I.P.
Needs: first baseman, shortstop, third baseman, relief pitching
Money to spend? Some -- for the right people. The team will try to make a pitch to retain Fielder and possibly
Jerry Hairston
Jr., but are likely celebrating to be free of
Yuniesky Betancourt
. The team probably won't be in the race for Reyes or even
Jimmy Rollins
, but could be in the market for a second-tier shortstop like
Clint Barmes
. They'll also need to add some arms in the bullpen, but could try to re-sign the likes of
Takashi Saito
and
LaTroy Hawkins
.
Pittsburgh Pirates | R.I.P.
Needs: catcher, first base, shortstop, corner outfielder, starting pitching
Money to spend? Yes, as much as $25 million or even a little more, but they also have plenty of holes. The Pirates took some steps forward in 2011, but will need to fill out their roster and will likely be going for the second-tier players to fill out a lineup around Andrew McCutchen, Neil Walker, Jeff Karstens, Kevin Correia, Charlie Morton and James McDonald.
St. Louis Cardinals | R.I.P.
Needs: First base, shortstop, relief pitching
Money to spend? Some for the right player. The Cardinals have nearly $60 million tied up for 2012 in six players -- Matt Holliday, Kyle Lohse, Lance Berkman, Chris Carpenter, Adam Wainwright and Jake Westbrook. There's also the little matter of Pujols -- who will listen to offers from the Cardinals, but is unlikely to give much (or any) of a hometown discount. The team also needs a shortstop and could use another left-handed reliever.
West
Arizona Diamondbacks | R.I.P.
Needs: second base, middle infield, relief pitching
Money to spend? There's not much tinkering expected of a team that surprised everyone by winning the NL West in 2011 -- the rotation is looking good and most of the positions are already manned. The team declined its option on second baseman Aaron Hill, but could also look at former Diamondback second baseman Kelly Johnson. The bullpen was radically rebuilt last season, but could use some tweaking.
Colorado Rockies | R.I.P.
Needs: starting pitching, second base, third base
Money to spend? The team needs a starter and also two infield spots -- all without spending much money. They could be looking to trade to find their infielders and a lefty reliever. But they also need a pitcher that can throw 200 innings in a season, but those don't come cheap on the open market. They'd also like a right-handed bat.
Los Angeles Dodgers | R.I.P.
Needs:catcher, second base, third base, starting pitching, relief pitching
Money to spend? Who knows? With the Frank McCourt mess, nobody knows what the future holds for the Dodgers. If they are sold, the timing may still be off for any big additions to the budget. In a perfect world, the Dodgers are looking at the big names like Fielder, Reyes and Wilson, but it doesn't seem like that will happen.
San Diego Padres | R.I.P.
Needs: closer, relief pitching, corner outfield, middle infield
Money to spend? The Padres have money to spend and spots to fill -- but don't expect them to be wooing the big names. Big money in San Diego is still small money to the likes of the Phillies and Cubs. The highest-priced free agent likely to sign with San Diego is closer Heath Bell.
San Francisco Giants | R.I.P.
Needs: shortstop, corner outfielder
Money to spend? The Giants will spend for the right player, and Reyes may just be that player. Or Rollins. The team may also try to retain Carlos Beltran, but at his age and injury history, the Giants are unlikely to gamble with a multiyear contract.
For more baseball news, rumors and analysis, follow @eyeonbaseball on Twitter or subscribe to the RSS feed.