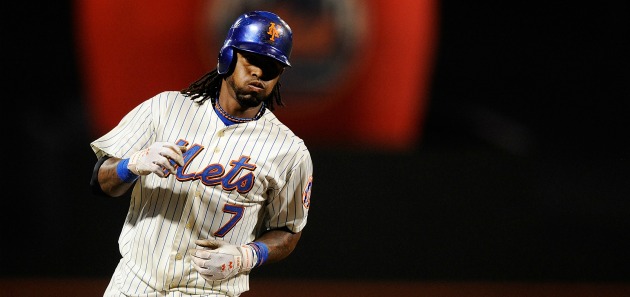 By Evan Brunell
Both the
Giants
and
Royals
addressed
areas of need in a swap
that sent
Melky Cabrera
to San Francisco in exchange for
Jonathan Sanchez
. And, on the surface, the deal will also allow both sides to strengthen their ability to sign high-ticket free agents. Though inside sources say the Giants may not have as much financial clout as it appears.
Now that San Francisco has brought in Cabrera, the club has crossed off one item on their to-do list and cleared up a logjam in the rotation. While the Giants may still yet pursue additional outfield help, it has more money to work with to address the club's most glaring need: shortstop. The position was a black hole last season, and with no semblance of help arriving soon from the minors, the club has to play in free agency for a shortstop. It's uncertain, though, as to whether they could pick up the price tag of a
Jose Reyes
(pictured),
Jimmy Rollins
or even a
Rafael Furcal
.
It's simple economics. The Giants' three top priorities this offseason was to find two outfielders and a shortstop. Now they've found one outfielder without bumping their payroll up. Instead of having a certain amount of dollars to spread among three areas of need, now it's between two areas of need. And, on the bright side, the Giants will be freed from the expiring contracts of
Aubrey Huff
(free agent after 2012), Aaron Rowand (who has already been released, but is still due $13.6 million in 2012) and
Barry Zito
(done after 2013 with a $7 million buyout in 2014).
The Royals also benefit from this deal, but in a different way. If Kansas City wants to be taken seriously by free agents, it has to show a commitment to improving the club. While the club did delete Cabrera from the team, they opened up center field for prospect
Lorenzo Cain
, who was part of the
Zack Greinke
trade prior to the 2011 season. Where the major improvement comes is in the rotation, which had the fourth-worst rotation in baseball last season with zero upside. When
Luke Hochevar
starts on Opening Day, there's a problem.
Sanchez's arrival will deepen the rotation, which you can bet free agents will notice.
C.J. Wilson
may be one such person, who will attract attention from many teams as one of the top starters on the market. Kansas City is expected to be involved, and the acquisition of Sanchez should help Wilson be more confident in the direction the Royals are taking. Wilson can look ahead at the incoming crop of elite pitching prospects and see the potential for a deep, devastating rotation. The Royals can also entice Wilson or another pitcher to town by contending that the acquisitions of two starters will allow the team to trade some of its minor-league pitching talent to further bolster the club, which GM Dayton Moore has alluded to be working toward.
Incidentially,
my free-agency predictions had Reyes to the Giants and Wilson to the Royals
. After this trade, these predictions are looking more and more realistic.
For more baseball news, rumors and analysis, follow @EyeonBaseball on Twitter or subscribe to the RSS feed.