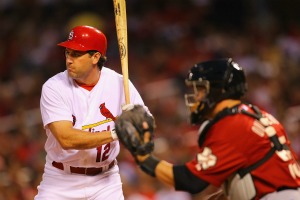 By C. Trent Rosecrans
Lance Berkman won a World Series with the Cardinals, but he'll still be identified mostly with the Astros, where he spent the first 11-plus years of his career in Houston and in the National League. Berkman, a Houston native, isn't happy with the idea that the Astros could move to the American League.
"I think it's a travesty," Berkman said during a news conference on Tuesday (via the Houston Chronicle). "It's a National League franchise. I think if they were going to do something like that, Milwaukee's the choice to go back to the American League; they're historically an American League franchise.
"It's a shame, I think, that Bud Selig is probably going to make that be sort of a condition of the sale. I don't like it. Even when I retire and live here in Houston, I don't want to go watch American League baseball. I'd like to have a National League team."
There could be an ulterior motive -- Berkman hit .425/.477/.900 with five home runs in 11 games against the Astros in 2011 and .196/.274/.304 with one homer in 15 games against the Brewers.
For more baseball news, rumors and analysis, follow @eyeonbaseball on Twitter or subscribe to the RSS feed.