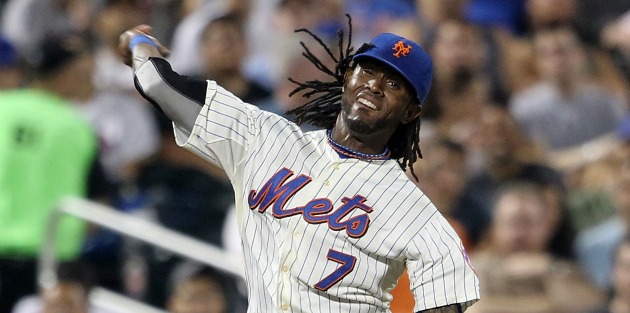 By Evan Brunell
The
Brewers
need a shortstop, but it's unlikely to be
Jose Reyes
, who has a lucrative offer in hand from the
Marlins
.
"One call," Brewers GM Doug Melvin told MLB.com. "No numbers."
Reyes is one of the hottest names on the market and has already received a six-year, $90 million offer from the Marlins,
Fox Sports reports
. That's not likely to be good enough for Reyes to sign, as the shortstop is seeking a contract north of $100 million. However, Miami's offer is not all that far away from Reyes' magic number, so it's easy to envision the Marlins upping the price and getting Reyes, who is intrigued by the opportunity to play in Miami and under skipper Ozzie Guillen. The appeal of Miami has to do with the city, plus the ability to play in good weather which could help Reyes avoid hamstring problems that have plagued him so far in his career.
The Brewers also need a shortstop, but it's hard to imagine Milwaukee ponying up the money to sign Reyes. In a discussion about first baseman
Prince Fielder
a couple days ago, Melvin indicated it was extremely unlikely Fielder would return to the Brewers
because of payroll constraints
. The same constraints will keep Reyes out of Milwaukee.
But Melvin is still on the prowl for a new shortstop, having lunch with
Rafael Furcal
's agent on Monday and reaching out to
Yuniesky Betancourt
's agent,
MLB.com writes
. While Betancourt is an awful shortstop and it was a no-brainer for Milwaukee to decline its $6 million option on Betancourt after the season, at some point, beggars can't be choosers. If Melvin can't entice Furcal or another shortstop (how about
Clint Barmes
?) to town, Betancourt may represent Melvin's best choice.
"I would think anybody who needs a shortstop and who is a contender has to look at [Furcal]," agent Paul Kinser told MLB.com. "Like I said, he brings the intangibles. The other guys haven't won the championships. ... He might miss a few games during the year, but when he's on the field, he's a difference-maker."
Melvin, for his part, admitted the Brewers won't be part of any free agency moves early on.
"We probably are going to be late in signing players," Melvin said. "I don't know if there's bargains at the start. ... Tell me an early signing that's a good deal."
While an early signing of Reyes by Miami will force the Marlins to give up a pretty penny, it would certainly change the complexion of the team and give the club an offensive dynamo that could be the missing piece for the offense. But would incumbent shortstop
Hanley Ramirez
move? The
Miami Herald
's Clark Spencer writes that Ramirez is not pleased about the possibility of changing positions -- and that Reyes and Ramirez aren't as friendly as reports make out.
That could potentially open the door for a Ramirez trade if Reyes is signed. The Marlins' payroll can only hold roughly one big-ticket signing in order to have money to flesh the rest of the team out. But a Ramirez trade could not only help supplement the big-league team, but would free up enough money for the club to chase down its other free agent targets, thought to be
Albert Pujols
,
Ryan Madson
and
Mark Buehrle
.
Those wondering if Reyes could end up back with the
Mets
? GM Sandy Alderson
said his team wasn't out of the race
to resign the shortstop.
Check out CBSSports.com's free agency tracker.
For more baseball news, rumors and analysis, follow @EyeonBaseball on Twitter or subscribe to the RSS feed.