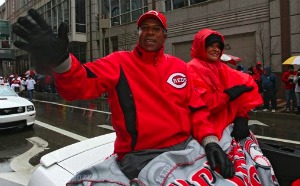 By Evan Brunell
A potential thorny issue in Cincinnati has been avoided, with baseball moving the
Reds
' Opening Day to Thursday, April 5.
The Reds and
Marlins
will officially open the season at Great American Ball Park at 4:10 p.m. on Thursday. Opening Day was originally scheduled for Friday April 6, but that conflicted with Good Friday which is a significant holiday in Cincinnati.
"We want to thank Major League Baseball, the MLB Players Association and the Reds and Marlins players for agreeing to move Opening Day to Thursday, April 5," Reds president Bob Castellini said. "Opening Day is a long-standing tradition for this team, our fans and the city of Cincinnati and we are pleased that the parade and game will now be on Thursday."
The Reds intend to hold their traditional parade prior to the game, and it will be a special one. This upcoming season is the first time that the Reds' Opening Day will be considered a ceremonial holiday in Cincinnati. However, this year's Opening Day is in name only, as it won't kick off the baseball season. The
Mariners
and
Athletics
will open the season earlier in the week in Tokyo, Japan.
In addition, the
Marlins
are slated to open their new ballpark on Wed., April 4 before flying to the Reds to kick off the series. League rules mandate that any team playing a single-game series must receive a day off the day after. It is unclear how this was resolved in order to move the Reds game from Friday to Thursday.
Cincinnati is a predominantly Catholic town with 479,000 Catholics in the 19-county Archdiocese, and schools are closed beginning at noon on Good Friday to observe the holiday, which includes fasting. That would preclude people from eating food at concession stands, as well as lend a somber tone to what should be a festive day of the Reds' home opener.
"The biggest thing is it's a conflict of moods," Dan Andriacco, spokesman for the Archdiocese of Cincinnati, said back in September. "Opening Day is a very festive occasion. Good Friday is a key date in our salvation. And although it's called 'Good' it's not a celebratory occasion.
The Reds also had Opening Day scheduled for Good Friday in the 2011 season, but were able to move it to Thursday.
For more baseball news, rumors and analysis, follow @EyeonBaseball on Twitter or subscribe to the RSS feed.