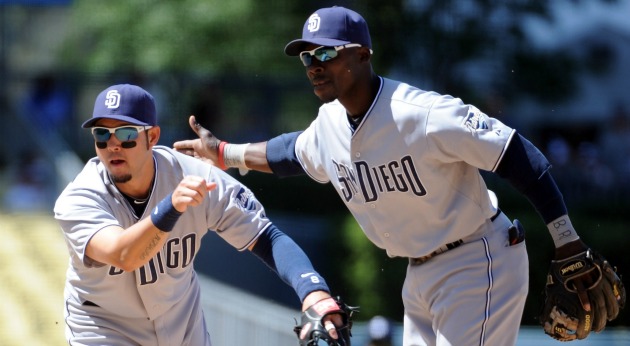 By Evan Brunell
The
Padres
intend to trade either shortstop
Jason Bartlett
or second baseman
Orlando Hudson
,
Fox Sports reports
.
The budget-conscious Padres would like to slash payroll from the middle infield, as San Diego has a tight budget to work with. Both infielders are the only players with guaranteed contracts for the 2012 season. Bartlett will make $5.5 million in 2012, but hit just .245/.308/.307 for the Padres, his worst offensive showing in his career outside from an eight-game stint in 2004 as a rookie. The 32-year-old was once considered a good defensive shortstop but seems to be coasting by on reputation these days. There are many teams that need a shortstop, though, so the Padres may be able to find a fit elsewhere. The infielder also has a $5.5 million option for 2013, with a $1.5 million buyout.
Hudson is also on the block. He is signed for 2012 at the same salary of $5.5 million as Bartlett, but holds a club option for 2013 worth $8 million with a $2 million buyout. Hudson struggled with the stick last year as well, hitting .246/.329/.352 and missed part of the season with a thigh strain. It will be much more difficult for San Diego to find a home for Hudson, given his declining bat and signs that he may not be a gifted fielder anymore. He also plays a position of less demand than Bartlett.
As Fox Sports writes, if Bartlett is traded,
Everth Cabrera
will likely draw the assignment at short. If Hudson is dealt, options include Cabrera,
Logan Forsythe
and
Andy Parrino
. If both are somehow moved, which San Diego would probably prefer, look for the team to import at least one replacement. Cabrera burst on the scene as a 22-year-old back in 2009, hitting .255/.342/.361. However, he fell flat on his face in 2010 and spent much of 2011 in the minors. He showed encouraging improvement with the bat at Triple-A this past season, so it's no surprise the Pads are trying to clear room for him. Being able to play at the league-minimum salary is also a help.
Money is a problem beyond Bartlett and Hudson, though. Fox Sports also reports that the club isn't optimistic about retaining
Heath Bell
.
While the closer has long expressed an interest in returning to town and even once admitted he might accept arbitration to stay with the team, it appears that Bell's market is strong in free agency. The closer has been holding out for a three-year pact with San Diego, which the club so far is unwilling to do. The new labor agreement could complicate things as well, as draft-pick compensation is likely to be modified for Type A free agents. That could present a problem, especially if teams are no longer required to surrender a first-round pick to ink a Type A free agent, which Bell is. That would not boost Bell's market, which may already be beyond the Padres' reach.
For more baseball news, rumors and analysis, follow @EyeonBaseball on Twitter or subscribe to the RSS feed.