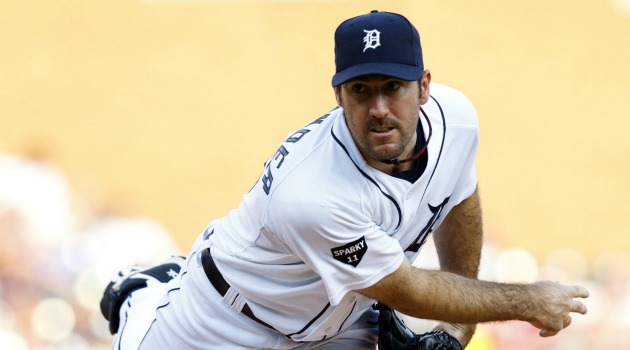 By Evan Brunell
Justin Verlander
is coming off one of the most successful seasons of his career -- or really, of any pitcher's career. The right-hander
unanimously won the AL Cy Young Award
on Tuesday.
Verlander's credentials to win the award lie on his low ERA, his dazzling strikeout numbers and the ability to pitch deep into games. But he no problem showing up in the wins department for those who still value wins. His 24 victories are the most since Randy Johnson won 24 in 2002. Before that, you have to go all the way back to John Smoltz in 1996, who also won 24.
Award Season


Verlander's dazzling season handed him the AL Cy Young Award victor for the first time in his career.
Read>>
Related links
Johnson, of course, is a member of the 300-win club, winning his 300th as a member of the
Giants
two seasons ago. But through his age 28 season, Johnson had won just 49 games. Verlander? He's sitting pretty at 107. That seems to suggest Verlander has a very real chance at 300 victories, but there's a lot more to winning 300 games than just comparing Verlander and Johnson's win totals.
(Earlier this summer, CBSSports.com's Danny Knobler discussed the possibility of 300 wins with Verlander -- click here to read).
There are several reasons why Johnson won 300 games, and a large part of it is his dominance extending into his later years. The man won four straight Cy Young Awards from age 35-39, and he was a feared pitcher until the day he retired, also racking up 4,875 strikeouts. He pitched until he was 46 before finally hanging it up, more than offsetting his slow start to his career. But Johnson is the exception -- there aren't many pitchers out there who don't separate themselves as an elite pitcher until their late 20s or early 30s, then morph into one of the best pitchers in history throughout his 30s. Johnson is the exception, not the norm.
Verlander is the norm -- a dominant pitcher who debuted at a young age and has held that dominance through his prime years. A better comparison might be Nolan Ryan, who tucked 105 victories under his belt through his age 28 season. But Ryan was another pitcher who pitched late into his career, hanging up his spikes at the age of 46. It's impossible to predict if Verlander will be pitching 20 years from now, let alone 10, but like Ryan, Verlander boasts no-hitter stuff, with each pitcher tossing multiple no-hitters in their career.
Roger Clemens had 134 wins in his career by the age of 28, but he also pitched late into his career, ending his career at age 45. And of course, there's the possibility that Clemens helped himself along by using steroids once he joined the
Blue Jays
.
One thing's clear -- if Verlander hopes to reach 300 victories, he's going to have to stay elite well into his 40s. If you do a simple projection of doubling his wins along with his years of service, Verlander will be sitting at 214 wins come age 35. He'd need at least five more seasons to reach 300, putting him into his 40s.
But can one even predict 214 wins in the next seven seasons? Fortunately, the argument about whether a pitcher's wins are a value state is largely dead. Most people these days understand that a win is not an acceptable way to judge pitchers. Baseball clubs moved on from wins quite a while ago, and most of the media has come around in recent seasons. You can't judge a pitcher on wins because it is so heavily dependent on the team. How is their defense -- can it prevent balls from dropping in or unearned runs from scoring at a clip enough to harm the pitcher? Is the bullpen good enough to hold leads? Does the manager have a quick hook? Is the offense capable of supporting the pitcher?
The fact that Verlander has 107 wins at this point in his career is rare, no matter the pitcher, because of all the variables that go into winning a game. Verlander has lucked out in pitching for a contender his entire career, and within that, having his team rack up the victories for Verlander. That's not easy to do. For comparison, let's look at a list of players since the new millennium that reached 100 or more wins by the age of 28, just like Verlander:
CC Sabathia
,
Carlos Zambrano
,
Jon Garland
,
Mark Buehrle
, Mark Mulder,
Barry Zito
, Pedro Martinez,
Andy Pettitte
.
Other than Sabathia, none of these players are thought to have any shot at winning 300. The latter two, of course, are now out of baseball and thus have zero chance. The 90's are kinder to Verlander's chances. Those pitchers who won at least 100 games by age 28 in the 90s are: Mike Mussina, Ramon Martinez, Tom Glavine, Greg Maddux, Dwight Gooden, Bret Saberhagen and Clemens. Madduz and Glavine have won 300 along with Clemens. Glavine needed into their 40s to get win No. 300, while Maddux grabbed his at age 38... and he is a transcendent pitcher in baseball history. When you're talking about a starting pitcher with tons of miles on his arm pitching at an elite level into his 40s... it's simply too unpredictable to guess whether or not Verlander will get 300 -- or if he'll even still be playing.
If Verlander stays healthy, if he stays elite, if he lasts into his 40s and if he continues to pitch for a contender the majority of his career, the odds do seem good that Verlander will win 300. But that's a lot of ifs. Too many ifs, actually. Right now, let's bask in Verlander's historic season, the likes of which haven't been seen since the mid-1980s, and worry about Verlander's chances to win 300 in a decade.
For more baseball news, rumors and analysis, follow @EyeonBaseball on Twitter or subscribe to the RSS feed.