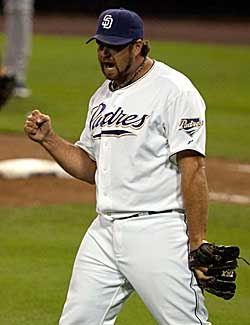 By Matt Snyder
Padres
All-Star closer
Heath Bell
has stated time and again he wants to remain with the Padres. He's even said in the past that he was willing to accept arbitration, which would amount to a one-year contract with a likely modest raise. But the more time passes, the more Bell sounds to be losing faith he's going to stick around. From
signonsandiego.com
:
"I told my guys that if there is any shot for San Diego, hold onto it. But I haven't really heard anything from the Padres since they changed general managers. Right now, I have no idea what to expect.

"But I think there's going to be a three-year deal out there from someone. And that's what I'd like to have. I'd rather stay on the West Coast. But I still have a home in Florida."
Obviously new general manager Josh Byrnes has plenty on his plate, but it's a bit surprising that he hasn't contacted Bell's agents yet, assuming he wants to retain the closer. The report did state that Byrnes is planning on meeting with Bell's agents by the end of the week. Still, Bell mentioned that if the
Red Sox
signed him, for example, he could play with
Adrian Gonzalez
again. And note above that he said he still has a home in Florida. The
Marlins
are looking to spend lavishly and need a closer.
And, again, Bell just sounds like he's resigned to being forced to look elsewhere -- more from
signonsandiego.com
:
"I have to weigh all my options," said Bell. "I don't know what I'm going to do. But it seems like there are going to be some very good options soon. And after everything that has happened with the Padres, I don't know what is going on.

"They lost the general manager (Hoyer) and the guy (Jason McLeod) responsible for building the future Padres through the draft."
I guess you could say he sounds like he's on the fence. One thing seems a near-certainty: Bell is going to get a more lucrative offer elsewhere. Will he take it? We'll find out quite soon.
FREE AGENT TRACKER
For more baseball news, rumors and analysis, follow @EyeOnBaseball on Twitter or subscribe to the RSS feed.