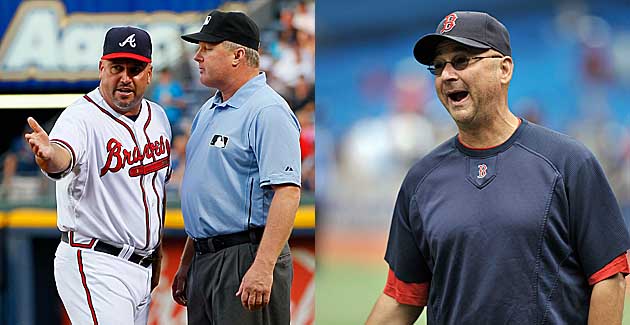 By Matt Snyder
Some of the best managers in baseball for 2011 were listed on ballots that were revealed Wednesday.
Joe Maddon and Kirk Gibson came out on top
in a completely unsurprising movement. But what about the other end of the spectrum? Who were the worst managers? We'll exclude guys who were fired during the season because they've already suffered enough. But what about the managers who kept their jobs well into September despite failing to meet preseason expectations? Let's check them out.
AL Anti-Manager of the Year candidates
Terry Francona, Red Sox.
No, he wasn't fired during the season. He walked away after the season, so he's "eligible" in this fun little exercise. And with the fallout of the historic collapse we've already heard far too much about, you have to question everyone in the Red Sox organization. Francona built up a ton of credibility throughout his years at the helm in Boston and rightfully so, but in looking at just 2011, the awful September is a real black eye on his resume.
Ozzie Guillen, White Sox.
He wasn't fired either. He walked away to take a new job after having a colossal disappointment of a season. The White Sox were picked by many to win the AL Central with what looked like a stacked offense and very good starting pitching. Instead,
Adam Dunn
and
Alex Rios
were albatrosses,
Gordon Beckham
took a step backward in his development and the back-end of the bullpen was a mess for the first several weeks of the season. There were some positives, but the negatives far outweighed those on a high-priced roster that failed to meet expectations.
Ron Gardenhire, Twins.
It's hard to completely blame Gardenhire for the disaster that was the Twins' 2011 season, considering all the injuries, but, frankly, I needed a third name here. And with the Twins getting 31 games worse in one season, Gardenhire has to shoulder at least
some
of the load.
The pick:
It's gotta be
Francona
with that monumental collapse. And the funny thing is, I'd hire him in a heartbeat if I was running a team with a managerial opening. He just had a bad month, along with many of his players.
NL Anti-Manager of the Year candidates
Fredi Gonzalez, Braves.
His ballclub lost a double-digit lead in the NL wild card in one month. That's not always on the manager, as the offense was sputtering just as it had most of the season, but I'm placing a lot of blame on Gonzalez because the back-end of his bullpen started to falter down the stretch. All season, people had been pointing out the overuse of
Craig Kimbrel
and
Jonny Venters
. And all season, Gonzalez just ignored it, and continued running the duo out there, even with three-run leads. Just because the save rule says a three-run lead means a save opportunity doesn't mean you have to use your guys. What was wrong with using
Scott Linebrink
and
George Sherrill
with a three-run lead in the middle of July, for example? Plus, there were times Gonzalez used either Venters or Kimbrel with a lead bigger than three. That's just unexcusable.
Dusty Baker, Reds.
The Reds got 12 games worse in a mediocre division (yes, there were two good teams, but three pretty bad ones) with very similar personnel to their division-winning team in 2010. In four seasons, Baker has only had a winning record once.
Mike Quade, Cubs.
Flawed roster? Yes. Injuries? Sure. But Quade was still pretty overmatched and appeared to lose control of his locker room by July. This was coming from a guy many players endorsed prior to the season.
Jim Tracy, Rockies.
The
Jorge De La Rosa
injury hurt, just as some underperformance from a few players, but the Rockies entered the season with far too much talent to end up a whopping 16 games under .500. Manager of the Year voting seems to always use performance versus expectations, so it's only fair the Anti-Manager does the same. Thus, Tracy's inclusion here.
The pick:
Gonzalez
, and I'd actually think about firing him due to the aforementioned overuse of Kimbrel and Venters. It cost his team the season. Hopefully the wear and tear doesn't alter the career paths of the young fireballers.
For more baseball news, rumors and analysis, follow @EyeOnBaseball on Twitter or subscribe to the RSS feed.