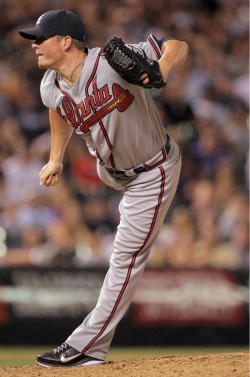 By C. Trent Rosecrans
Just when you thought award season was over -- move over Justin Verlander, you're not going to be on this list -- the Topps Major League Rookie All-Star Team was announced on Wednesday. This is actually the 53rd, or so they tell us, All-Rookie team the baseball card company has put out (and did include Verlander back in 2006).
So, here it is:
1B Mark Trumbo, Angels
SS Dee Gordon, Dodgers
OF Desmond Jennings, Rays
OF Josh Reddick, Red Sox
OF Ben Revere, Twins
C J.P. Arencibia, Blue Jays
SP Jeremy Hellickson, Rays
RP Craig Kimbrel, Braves
In all, it looks fine. I'm a bigger fan of Eric Hosmer than Trumbo, but I can see why some would pick Trumbo. I'd also take Dustin Ackley over Espinosa, but otherwise, it seems difficult to nitpick all that much. And in the end, if you're nitpicking the Topps Major League Rookie All-Star Team, you may need to get out of the house a little more.
For more baseball news, rumors and analysis, follow @eyeonbaseball on Twitter or subscribe to the RSS feed.