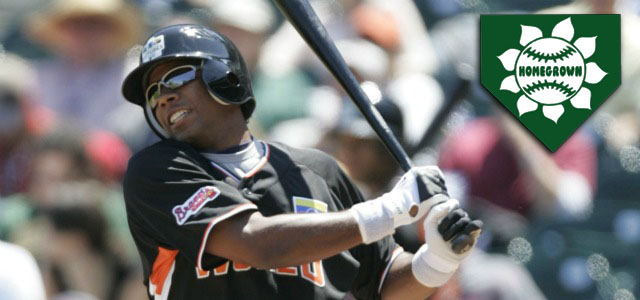 By C. Trent Rosecrans
What if players were only permitted to stay with the team that originally made them a professional? No trades, no Rule-5 Draft, no minor or major league free agency ... once you are a professional baseball player, you stay in that organization. This series shows how all 30 teams would look. We give you: Homegrown teams.
To view the schedule/past entries of this feature, click here.
The
Braves
have seemingly always believed in developing talent from within and occasionally supplementing from the outside. It's a formula that's worked for many years and has become a blueprint for most of baseball. However, that doesn't mean they don't make mistakes from time to time, and if you're a Braves fan, you probably already rue the date July 31, 2007, already. On that day, the Braves sent
Elvis Andrus
,
Neftali Feliz
,
Matt Harrison
,
Jarrod Saltalamacchia
and Beau Jones to the
Rangers
for
Mark Teixeira
and Ron Mahay. The Rangers have been to two World Series since the trade and the Braves none.
Lineup
1. Elvis Andrus, SS
2.
Martin Prado
, LF
3.
Brian McCann
, C
4.
Chipper Jones
, 3B
5.
Jeff Francoeur
, RF
6.
Freddie Freeman
, 1B
7.
Jason Heyward
, CF
8.
Kelly Johnson
, 2B
Starting Rotation
1.
Adam Wainwright
2.
Tommy Hanson
3.
Brandon Beachy
4. Matt Harrison
5.
Mike Minor
Bullpen
Closer -
Craig Kimbrel
Set up - Neftali Feliz,
Jonny Venters
,
Matt Belisle
,
Julio Teheran
,
Charlie Morton
Long -
Bruce Chen
Notable Bench Players
Adam LaRoche
,
Mark DeRosa
,
Rafael Furcal
,
Yunel Escobar
,
Wilson Betemit
,
Andruw Jones
,
Jordan Schafer
,
Tyler Flowers
,
Brayan Pena
and
Garrett Jones
give this team an acceptable backup at every spot on the diamond and more.
What's Good?
The depth is incredible -- in the pitching staff and the position players. Even if Wainwright weren't available because of his injury, the team has Chen, Morton or the rookie Teheran to step in, or they could move Feliz to the rotation without even having to look anywhere else for its closer.
What's Not?
Heyward is playing out of position in center -- it was between him and Francoeur, so I went with Heyward. Other than that? Well, Wainwright might still have been injured and the rotation is young, but talented.
Comparison to real 2011
There's no chance this team would have missed the playoffs, like their real-life counterparts did. The rotation is solid (even without Wainwright) and would have given first-year manager Fredi Gonzalez more innings, meaning he may not have run Kimbrel and Venters into the ground. The lineup has enough punch to aid that goal. Does this team win the World Series? Maybe. The rotation isn't a postseason killer -- yet, but there's certainly potential.
Next:
Toronto
Blue Jays
For more baseball news, rumors and analysis, follow @eyeonbaseball on Twitter or subscribe to the RSS feed.