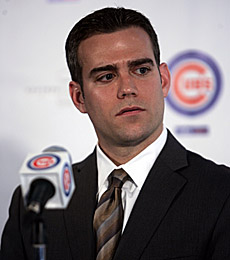 By Matt Snyder
New
Cubs
president Theo Epstein hit the radio waves in Chicago Wednesday afternoon to discuss several different topics. Let's check out the main points, thanks to
Carrie Muskat of MLB.com
.
• It's pretty easy to understand why many Cubs fans never want to see
Carlos Zambrano
again (and I'm on their side, by the way), but Epstein hasn't ruled out a Zambrano return. He explained why:
"The Carlos Zambrano of 2011 and years previous can't fit into the culture that we have here," Epstein said (
MLB.com
). "Change needs to happen and change will happen. Either he'll change and buy in and fit into this culture — and I understand there are a lot of skeptics around about that. I understand that, and frankly, I'm skeptical as well. He needs to prove to us that he can change and be part of this culture or we'll change the personnel and move forward with people who are proud to be Cubs and treat their teammates with respect, treat the fans with respect and can be part of a winning culture in the Cubs' clubhouse."
That's very reasonable. All the Zambrano issues came under Jim Hendry's watch, so Epstein has the right to give him one chance. Without having had any personal interaction with Zambrano before taking the job, Epstein may not feel comfortable just going on what he's read and seen on TV -- especially since it's not easy to unload a $19 million contract. And him making sure to point out that he's skeptical seems like a stern warning to Big Z. (
UPDATE:
The Cubs have a
preliminary agreement in place to trade Zambrano
to the
Marlins
)
• Speaking of albatross contracts, left fielder
Alfonso Soriano
is still owed $54 million over the next three seasons. Epstein didn't specifically name Soriano, but when asked about highly overpriced players, he said the club has three options:
1. Trade the player and eat a decent portion of the salary.
2. Cut the player.
3. Provide "an infrastructure in which he can improve," per
MLB.com
.
On Soriano, I'm not sure what the Cubs could do without having to eat a ton of money. You play him at first base to eliminate the defensive liability he poses in the outfield, and he's still a first baseman with a .289 on-base percentage who hits around 25 homers. Is that even close to being worth $18 million a year? No. I'd guess the best option is No. 1 and then No. 2 is soon to follow. Either way, that's a load of wasted money.
• As for the recent trade of fan favorite
Sean Marshall
?
"With what we're trying to accomplish, which is not just win the World Series in 2012 but build something bigger and more sustainable for the long-term, what's more valuable to us?" Epstein said (
MLB.com
). "One season worth of Sean Marshall or five seasons worth of a 25-year-old left-handed starting pitcher [
Travis Wood
] who can go into our starting rotation … and two prospects we like a lot."
Well, first of all, he has to say that they are trying to win the 2012 World Series, but they really aren't. Just as I wrote last week, the Cubs aren't going to throw all their chips to the center of the table and try to win immediately just to end some fake curse. They are building a foundation for the future, one that Epstein and company are hoping will provide multiple opportunities for a championship down the road, not just one quick burst.
• He hit on one Wood, so what about the other:
Kerry Wood
?
"You have a team that really respects a player, wants him back desperately, and you have a player who loves the city, is a huge part of the community here with his family and his foundation and wants to be back," Epstein said (
MLB.com
). "If we can't work this out, we're doing something wrong."
• Also, not that it's shocking, but Epstein definitively stated that
Bryan LaHair
is going to be the Cubs' first baseman in 2012. Now, if he was planning on signing
Prince Fielder
, Epstein obviously wouldn't say so -- so it's possible the Cubs are still in the bidding. I'm inclined to believe him, though, because of the project nature of this rebuild. And LaHair could possibly be a late bloomer like a
Jayson Werth
(erase 2011 from your memory, haters, and look at 2008-10) or
Ryan Ludwick
. LaHair, 29, hit .331/.405/.664 with 38 homers and 38 doubles in 129 Triple-A games last season.
For more baseball news, rumors and analysis, follow @EyeOnBaseball on Twitter, subscribe to the RSS feed and "like" us on Facebook.