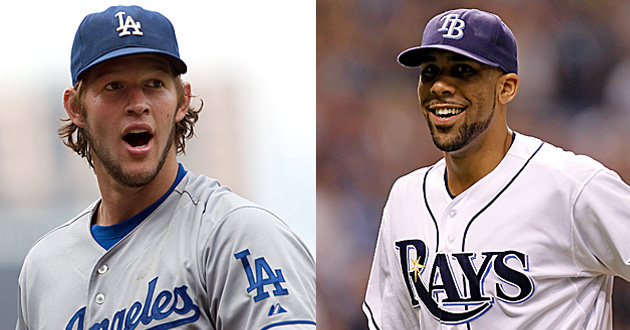 By Matt Snyder
For the latest installment in our ongoing offseason series, let's take a look at two similar left-handed starting pitchers. They're both under age 27, both made their respective debuts in 2008, were both drafted in the first round and both have already had a top two finish in Cy Young voting (one won it). One plays in the AL East, the other in the NL West. That's right, it's
Clayton Kershaw
of the
Dodgers
against
David Price
of the
Rays
.
The case for Kershaw
Well, gee, where to begin? How about with a 2011 Cy Young Award -- coming in a season where Kershaw won the pitching triple crown, leading the NL with 21 wins, a 2.28 ERA and 248 strikeouts. Also impressive were Kershaw's 233 1/3 innings pitched, five complete games, two shutouts while sporting an NL-best 0.98 WHIP. On top of all that, Kershaw took home the Gold Glove. He can even hit, as the .225 batting average and 10 runs scored is pretty impressive for a pitcher.
Better yet, Kershaw is only turning 24 this coming March and has already logged over 700 innings in his young career. We're talking a guy who could be a legitimate Cy Young candidate for the next decade-plus.
The case for Price
Upon first glance at the historically basic pitching categories, Price had a down year in 2011. He went 12-13 with a 3.49 ERA. This came on the heels of a season where he went 19-6 with a 2.72 ERA and finished second in AL Cy Young voting. Advanced metrics like FIP and xFIP, however, say Price simply had worse luck in how things shook out. And it wasn't like he was bad anyway. He struck out 218 batters in 224 1/3 innings and sported an impressive 1.14 WHIP. And at age 26, it's very reasonable to expect Price to have a similar looking W/L and ERA in 2012 to what we saw in 2010.
Still, I can hear the cries already. This is a stupid "comparison" because Kershaw's numbers like W/L and ERA dwarfed Price's in 2011, right? Well, the opposite was true in 2010 and let us also consider the competition. Remember, Kershaw is in the NL West while Price is in the AL East.
Kershaw made nine of his 34 starts against the
Giants
or
Padres
-- and the only worse offense in baseball belonged to the
Mariners
. He made two more starts against the
Astros
. In those 11 starts against dreadful offenses, Kershaw went nuts, to the tune of a 10-0 record and 1.33 ERA. Meanwhile, Price made 12 starts against the top three offenses -- in terms of runs scored -- in baseball: The
Red Sox
,
Yankees
and
Rangers
. Of Price's 34 starts, 21 came against teams with a winning record.
It's fair to point out that Kershaw had good success against the
Diamondbacks
and
Tigers
while Price was knocked around by the
Twins
and A's, for example. But the general point is that Price faced much tougher offenses throughout 2011.
Our call
There is absolutely no wrong answer, but I'm going Kershaw. It might be surprising after those last few paragraphs, but I was merely trying to sell just how tough this decision should be. Glancing merely at the Cy Young voting and traditional stats from 2011 says Kershaw is an easy choice, but it's far from easy. In fact, my choice is based merely on the roughly 2 1/2 year difference in age. Otherwise they are basically the same to me, as the competition level evens out their numbers -- not to mention factoring in 2010.
Fan Vote:
For more baseball news, rumors and analysis, follow @EyeOnBaseball on Twitter, subscribe to the RSS feed and "like" us on Facebook.