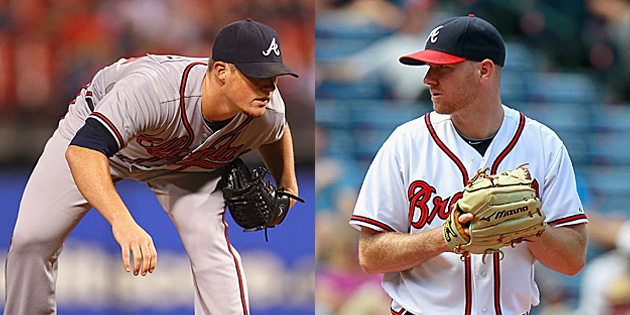 By Matt Snyder
We all know the narrative by now. The Atlanta
Braves
blew a double-digit lead in the NL wild-card race to the eventual World Series champion
Cardinals
. Chief among the reasons for the September swoon were a lack of offense and the once-untouchable back-end of the bullpen duo
Craig Kimbrel
and
Jonny Venters
running out of gas. This spring, they'll look to avoid such a disaster.
Kimbrel was just 3-of-6 in save chances with a 7.36 ERA and six walks in his last eight outings (7 1/3 innings). Before that stretch, Kimbrel was one of the most dominant closers in baseball, closing 43 saves in 48 chances with a 1.55 ERA and 115 strikeouts in 69 2/3 innings. All told, Kimbrel appeared in 79 games. The only pitcher who appeared in more was his setup man, Venters, who appeared in 85.
Venters had a 5.65 ERA and 1.81 WHIP in his last 15 outings. Before that, he had a 1.10 ERA and 0.95 WHIP.
So it's pretty evident if the Venters-Kimbrel duo was able to remain as deadly in September as they were April through August, the Braves would have found a way to hold off the Cardinals. It's easy to point to the regular season workload -- and that was a major issue -- but David O'Brien of the
Atlanta Journal-Constitution
points out the
two youngsters also dialed it up in the spring
.
At 2011 spring training, no major league reliever had more appearances (13) or strikeouts (15) than Kimbrel. As for Venters, the lefty with the 95-mph sinkers appeared in midseason form from the outset of camp, then reeled off whopping 51 appearances (in 92 team games) before the All-Star break.
This time around, they are slowing things down considerably in the spring, with hopes of going strong into October.
"I definitely slowed it down, started throwing a little later," Venters said of his offseason throwing program (
AJC.com
). "Last year I came into camp guns blazing, ready to go 100 percent. This year I'm going to use spring training as more of a tool for trying to get ready for the season, as opposed to … really two years ago I was trying to make the team, and last year there was a new manager and it was my second year in the big leagues."
Kimbrel is in a very similar situation.
"Yeah, I definitely started to throw a little later, because I understand there's no reason for me to have myself ready to go right now," Kimbrel said (
AJC.com
). "As long as I'm good to go with two weeks left before the season starts, that's good enough. You don't have to be 100 percent ready to go at the very start of spring training."
This is a good start. The next step is the Braves' offense providing bigger leads in victories and manager Fredi Gonzalez realizing he doesn't have to use both of them every single time they have a three-run lead. Just because the rulebook says it's a save doesn't mean you must have your best two pitchers out there. After all, it's not that hard for a major-league pitcher to get three outs before allowing three runs.
For more baseball news, rumors and analysis, follow @EyeOnBaseball on Twitter, subscribe to the RSS feed and "like" us on Facebook.