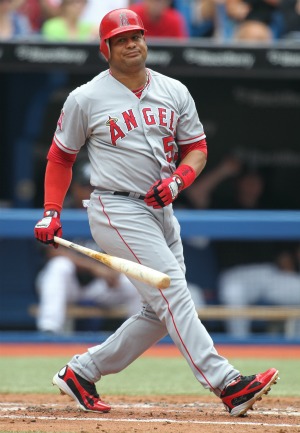 By C. Trent Rosecrans
The
Angels
apparently don't have a spot for outfielder
Bobby Abreu
and he's not real happy about it.
Abreau told Enrique Rojas of ESPNdesportesLosAngeles.com that he'd rather be traded than be a platoon player
.
"I'm an every-day player. I can still be in the lineup for a Major League team," Abreu, still in his native Venezuela, told Rojas on Tuesday. "I will not be on the bench knowing that I can play.
"If the Angels don't have a position for me, then the best thing is to trade me. It would be the correct [thing] to do. I won't be able to do nothing sitting on the bench."
Abreu is in the final year of his contract with the Angels and will make $9 million this season. He will turn 38 next month.
There seems to be the odd man out in the Angels' outfield, with
Vernon Wells
,
Torii Hunter
and
Peter Bourjos
as the probable lineup. There's also the case of
Mike Trout
, one of the top prospects in baseball, who also plays the outfielder. The team is also crowded at DH, with
Kendrys Morales
and
Mark Trumbo
having to play somewhere after the team signed
Albert Pujols
.
Abreu told Rojas that Angels manager Mike Scioscia told him he'd like to play him in both corner outfield spots and DH, still playing most every day. But Abreu said if he's strictly a bench player, he'd prefer a trade.
"I want to play, and I believe I can help this team," he told Rojas. "But if there's no spot for me, then I would prefer to play somewhere different."
Abreu hit .253/.353/.365 last season with eight home runs in 585 plate appearances. His batting average and on-base percentage were similar to his 2010 performance (.253 batting average, .353 on-base), but his power dropped considerably, with his slugging percentage dipping to .365 and failing to reach double-digit home runs for the first time as a full-time player.
Abreu is the only left-handed hitter among the team's outfielders, which could help his case. Trumbo is also a right-hadned hitter, while Morales is a switch-hitter. Last season, Abreu hit all eight of his homers off of right handers, and hit .259/.366/.400 against right-handers and .238/.319/.279 against left-handers and he's always hit right-handers better.
Of course, Abreu can want a trade, he has very little leverage when it comes to forcing it to happen.
For more baseball news, rumors and analysis, follow @EyeOnBaseball on Twitter, subscribe to the RSS feed and "like" us on Facebook.