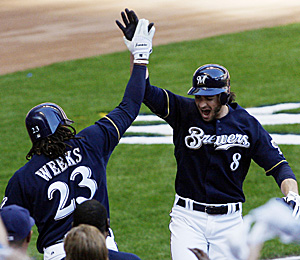 By Matt Snyder
Every baseball fan has surely heard by now, considering our 24-hour Twitterverse of a news cycle, that
Brewers
' left fielder
Ryan Braun
won
his appeal and will not face a 50-game suspension
. There's plenty of discussion to be had on the matter from many different angles, but in this particular entry we'll focus on the 2012 NL Central race.
Had Braun been suspended, the Brewers could probably have been counted out in the NL Central. Replacing
Prince Fielder
and 50 games of Ryan Braun with
Aramis Ramirez
wasn't gonna cut it for a team that was largely dependent upon offense last season, en route to the Central division title. Replacing Fielder's production with some Ramirez and hoping for improvements in several other areas? Well, that actually sounds doable.
Then you look around the Central. On paper, we can count out the
Pirates
,
Cubs
and
Astros
. Obviously games aren't won on paper, otherwise the
Diamondbacks
would have finished last in the NL West as most expected last season. It's just that this is all we have to go on right now, and the Pirates, Cubs and Astros appear very overmatched by the
Cardinals
,
Reds
and now Brewers (again).
And right now, the Brewers have just as good a shot as any of the three. They went 96-66 last year and lost a major piece, for sure, in Fielder. But they did sign Ramirez to fill a gaping hole at third base. He can hit cleanup to protect Braun. There are other areas that can improve as well. All-Star second baseman
Rickie Weeks
only played 118 games last season, while
Corey Hart
was held to 130. If those guys can stay on the field a bit more, there's an offensive uptick.
Alex Gonzalez
represents a strong upgrade at shortstop over
Yuniesky Betancourt
(really, who wouldn't?).
Pitching-wise, the Brewers have the ability to be better as well. Improvements should be expected from
Zack Greinke
and
Shaun Marcum
in their second Milwaukee season.
Yovani Gallardo
has become a legitimate ace. The eighth and ninth innings should be dominant, with
John Axford
now having established himself as a lock-down closer and
Francisco Rodriguez
along for the full season as the eighth-inning guy.
If the Brewers are looking outside and hoping for the optimistic spin, it's possible. Let's try it:
• The Cardinals lost the presence of
Albert Pujols
from the lineup. Can
Carlos Beltran
and
Lance Berkman
stay healthy while also fighting off age regression? Speaking of age, how much longer does
Chris Carpenter
hold up? And
Adam Wainwright
is coming off Tommy John surgery.
• The Reds are stronger, for sure, but they're hardly a cinch to be a great team. You could make the argument there are question marks at catcher, shortstop, third base, center field and left field.
Mat Latos
was a good get, but how does he deal with a hitters' park instead of spacious Petco Park as his home field?
Obviously, we could spin things in favor of the Cardinals or Reds in a similar exercise, but it's the Brewers day with the Braun announcement.
The bottom line is I'm not sure who I'll be predicting in the NL Central, but it's between the Cardinals, Reds and Brewers. A few hours ago, it was just the Cardinals and Reds in the mix. In the time it takes to snap your fingers, the Brewers were thrust into the mix. Braun is that important.
We now wait for the actual games to see if everything plays out as expected, because what the "paper" says means nothing. Still, one cannot dispute that the Brewers already have their first big victory of the 2012 season.
For more baseball news, rumors and analysis, follow @EyeOnBaseball on Twitter, subscribe to the RSS feed and "like" us on Facebook.