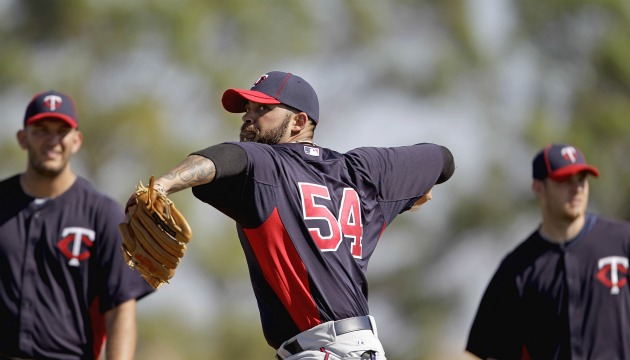 By C. Trent Rosecrans
One of baseball's saddest stories of recent vintage may be coming to a close.
Joel Zumaya
, who suffered a torn ulnar collateral ligament this weekend, is out for the season and sounds like a man who may retire.
Zumaya spoke to reporters on Monday morning and said he was considering not having another surgery on his seemingly cursed right arm.
From La Velle E. Neal III of the Star Tribune
:
"I know I'm young, but I'm going to probably be going on six surgery if I get another one," Zumaya said. "I'm only 27 years old and I've taken a lot of wear and tear on my body, especially my arm, and then rehab -- it's a lot out of you. So I have a little two-and-a-half-year-old; maybe it's time to move on. I'm a pretty dang good fisherman, so I might pursue professional fishing…"
Zumaya said he hasn't made a decision yet, but he expects to do so soon.
"I went home, tried to make a decision -- I've got family here with me -- but it's a tough decision, so I'm going to go on within the next day or two and make a decision," Zumaya told reporters (again, via the
Star Tribune
). "I spoke to [
Twins
general manager] Terry [Ryan] and told him that I'll probably give him a call within the next 24 hours to determine if I'm going to get cut up or not."
I'm not sure you use the term "get cut up" if you're planning on having surgery. And at this point, who can blame Zumaya for not wanting to go through another surgery and rehab.
That said, Zumaya has said this before.
In November of 2010, Zumaya told MLB.com's Jason Beck
, "If I get hurt again, I'm basically going to be done with baseball. I'm going to have to find another job."
Of course, with that, the guy who called himself "china doll" go to have another surgery on his right elbow last May after making it through just one spring training outing last season. Zumaya then signed a one-year deal with the Twins. He will still be paid $400,000 this season, but it's unlikely he'll get another big-league deal even if he does try to come back again.
For more baseball news, rumors and analysis, follow @EyeOnBaseball on Twitter, subscribe to the RSS feed and "like" us on Facebook.