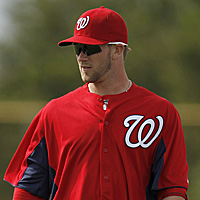 By Matt Snyder
Phenom outfielder
Bryce Harper
-- the top prospect for the up-and-coming
Nationals
-- has decided to delete his Twitter account.
"I was just over it. Got bored and decided to leave," Harper said Wednesday morning (
MASNSports.com
).
It's hard to tell if he's being totally up front, because it's possible he just got sick of all the hate. Plenty of players in the recent past have deleted accounts due to fan abuse --
Mets
catcher
Josh Thole
comes immediately to mind as one example.
Harper has received some backlash for tweets he's sent, including him openly cheering for the
Yankees
in the ALDS last season. He also defended his favorite teams (a blatant fair weather variety: Yankees, Duke basketball, USC football, Cowboys and Lakers) recently on Twitter in a few exchanges with fans. Harper himself was polite and came across as not being bothered, but at some point the constant taunts surely gets to be a bit much.
Nationals spring training
Earlier this week, manager Davey Johnson mentioned social media use to his ballclub:
"We warned them about Tweeter (sic) and Facebook and all kinds of sites," Johnson said (
MASNSports.com
). "Nothing's secret anymore. I did point to a couple guys and said, 'Now you listen to this.' I'm (not) mentioning any names, but you know probably who."
Harper told reporters his Twitter account deletion had nothing to do with Johnson's warning, though.
Personally, I don't see any great reason for an athlete to bother with Twitter. Sure, there's plenty of adulation to go around -- if they're really desperate for more of it -- but the general public can be pretty collectively brutal, personal attacks and all. Some of the stuff crosses lines normal people would never even come close to crossing. Not only that, there's the issue of accidentally saying something stupid and getting raked over the coals for that.
It's a total guess, but I can't see how the good can cancel out the bad for an athlete on Twitter.
For more baseball news, rumors and analysis, follow @EyeOnBaseball on Twitter, subscribe to the RSS feed and "like" us on Facebook.