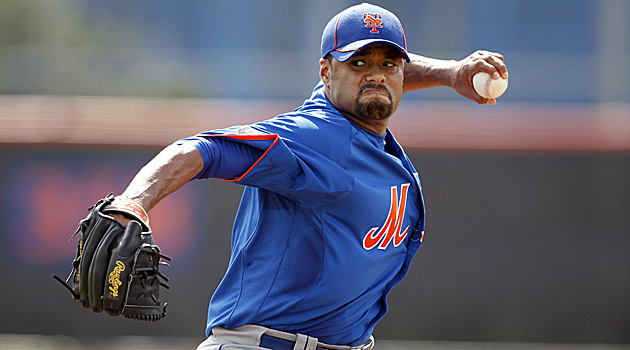 By Matt Snyder
Johan Santana
's progress in spring training is going to continue to be a huge storyline because he was once the best pitcher in baseball and if he's able to return to form, the
Mets
will enter the season with a huge boost in psyche. Thursday, he took another big step forward. The left-handed ace faced hitters for the first time since September.
"I felt pretty good," Santana said (Associated Press). "I was able to throw for the first time having hitters standing up at the plate and swinging the bat. It was pretty good.
"I was told I was going to be challenged from those guys and I had to step up and do my thing. I was able to come in and throw my fastballs inside and see how they react and to be able to throw my changeup. Overall, it was good." (AP)
Santana will next start against the
Cardinals
in a split-squad game Tuesday. He's scheduled to throw either two innings or 40 pitches, whatever he hits first.
Other minor injury news and updates --
major news like back surgery would be covered in its own post
-- from Thursday in spring training:
• Star
Rays
third baseman
Evan Longoria
was hit in the hand with a pitch during an intrasquad game. That's scary, because hand bones are routinely broken when hitters are struck with a pitched ball in baseball. Longoria and the Rays dodged a bullet, though, as X-rays were negative and it's merely a bruise. Longoria is listed as day-to-day. (
TampaBay.com
)
•
Marlins
ace
Josh Johnson
missed the majority of last season with shoulder issues. He threw 37 pitches in a bullpen session Thursday and reports that he feels "good" and is "tired of the screen in front of" him. He'll get his chance to throw without the L-screen Monday, when he starts Miami's spring opener against the Cardinals. (
Fish Tank blog
)
•
Brewers
starting pitcher
Shaun Marcum
has some "tenderness" in his right (throwing) shoulder and will back off his throwing program a bit. Worry not, though, the Brewers say because Marcum was already going to dial it back this spring after having such a big workload last season -- only two years removed from Tommy John surgery.
"We don't need throw 20 innings in Spring Training," Marcum said (
MLB.com
). "That's pointless. Spring Training is so long for everybody, by the end of it you're wasting pitches and wasting time."
•
Nationals
first baseman
Adam LaRoche
was kept out of workouts Thursday with a mild left ankle sprain, but it sounds like a precautionary measure.
"I don't want to flare it up any more than it is," said LaRoche (
MASNSports.com
). "There's no point right now risking dragging this thing out for another week if we can knock it out in a couple days. I would rather get some throwing in, get some swings and just try to stay off of it as far as running."
For more baseball news, rumors and analysis, follow @EyeOnBaseball on Twitter, subscribe to the RSS feed and "like" us on Facebook.