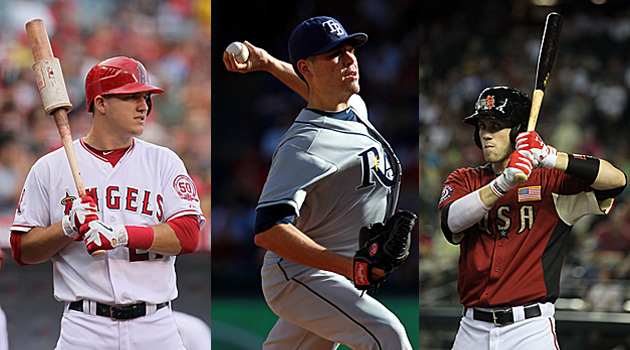 By Matt Snyder
We at CBSSports.com don't have a scouting guru, but prospect rankings are incredibly popular among fans these days, so we aren't about to neglect covering the preseason rankings. So this post will contain the consensus top 60 prospects from the baseball world. I've gone through and averaged out the rankings from the five major outlets that do them.
Why 60? Well, the outlets usually rank 100 (Baseball Prospectus does 101), but after around 50 there's nothing close to a consensus. It's a muddled mess of disagreement. There were 147 players mentioned between the five top 100 (or 101) lists and once you get north of a certain handful of can't-miss prospects, the rankings are all over the place. Even in the top 60 below, you've got someone like
Wily Peralta
from the
Brewers
' system. He was ranked 39th by ESPN.com and 94th by Baseball Prospectus.
Hak-Ju Lee
of the
Rays
was ranked 12th, 20th, 44th, 46th and 67th, respectively, by the five outlets.
One thing they do agree upon? The top three prospects in baseball are
Matt Moore
,
Bryce Harper
and
Mike Trout
. Of course, they don't agree on the order.
The five rankings sets we used:
-
Baseball Prospectus (Kevin Goldstein)
-
ESPN.com (Keith Law)
-
MLB.com (Jonathan Mayo)
-
Baseball America (staff vote)
-
Scout.com on FoxSports.com (Frankie Piliere)
So here are the consensus top 60 prospects in baseball, according to these five published outlets. Notes of other things that might interest will follow the chart.
• If a player went unranked by any outlet, he received a value of 105 in the calculated average. More than one of those would easily be enough to knock a guy from the ranks, so everyone above with a "UR" next to his name in the "worst rank" category above was ranked by four of the five outlets.
• Rangers pitcher
Yu Darvish
was ranked fourth by Baseball America and ignored by all other outlets. I've got to believe the four outlets that didn't rank the Japanese phenom don't consider him a prospect. Which is weird, because most define "prospect" as someone who still has "rookie" eligibility. Darvish still does, but they have the right to rank whomever they wish.
•
Athletics
' outfielder Yoenis Cespedes was ranked 20th by Goldstein and 14th by Baseball America while the other three outlets declined to rank him. My response to this would be similar to that of Darvish.
• Goldstein mentioned that he'd rank Cuban outfielder Jorge Soler 39th, so I actually plugged him in and bumped everyone else down one spot. After all, I fully expect Soler to be signed sometime this season. Still, Soler didn't make the top 60 above because no one else ranked him.
•
Nick Franklin
(SS, Mariners) would have easily made the top 60 here, but Goldstein left him unranked.
•
Will Middlebrooks
(3B, Red Sox) would have easily made the top 60 here, but Law left him unranked.
• The following players were ranked somewhere by all five outlets but didn't make the cut for the average top 60, listed in order of best average ranking:
Yasmani Grandal
(C, Padres),
Casey Kelly
(RHP, Padres), Trevor May (RHP,
Phillies
),
Yonder Alonso
(1B, Padres),
Sonny Gray
(RHP, A's),
Starling Marte
(OF, Pirates), Josh Bell (OF, Pirates),
Javier Baez
(SS, Cubs), Mason Williams (OF, Yankees),
Jedd Gyorko
(3B, Padres) and
Addison Reed
(RHP,
White Sox
).
• For the complete lists of each, please note I linked to them in the introduction above. Just click on it and go (of course, ESPN.com and Baseball Prospectus are pay sites, so you can't see those for free). Those guys all focus on scouting throughout the year as their primary job, so they know more than you and I on this front.
For more baseball news, rumors and analysis, follow @EyeOnBaseball on Twitter, subscribe to the RSS feed and "like" us on Facebook.