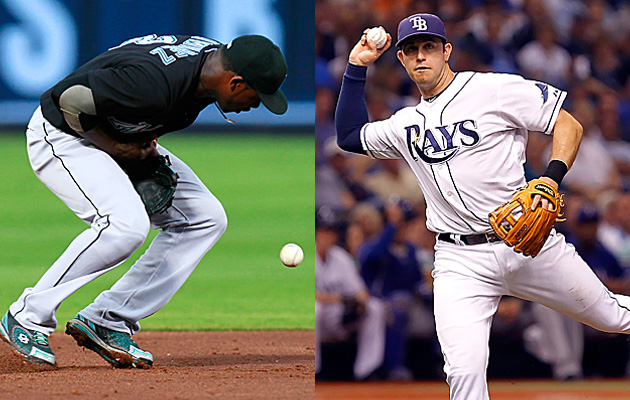 By Matt Snyder
Highly-respected defensive analysts John Dewan and Ben Jedlovec have released their Fielding Bible projections for the 2012 Major League Baseball season, with the Tampa Bay
Rays
being projected as the best defense in the majors and the Miami
Marlins
proejected to have the worst.
The system used in the Fielding Bible is "defensive runs saved," which doesn't only factor in errors, it also uses range and player placement to determine how many runs a defense either saves pitchers or costs them. Clubs with a positive score are said to have defensively saved pitchers runs while those with a negative score have cost their pitching stuff some runs.
Last season, the Rays were the best in the majors with a +85 score. That's quite a feat, saving 85 runs for your pitching staff. On the flip side, the Marlins checked in with a -75, which is flat-out atrocious.
This season, the projections have the Rays saving 42 runs and the Marlins at a -30.
The top five projected defenses for 2012, in order, in the projections: Rays,
Mariners
,
Reds
,
Rangers
and
Angels
.
The bottom five, listed from 26-30:
Orioles
,
Cubs
,
Mets
,
Twins
and Marlins.
The
Phillies
made the highest leap from last year's score to this year's projection, going from a -59 ('11 score) to +6. Losing
Raul Ibanez
from left field helps, as does having a full season of
Hunter Pence
and someone other than
Ryan Howard
manning first base for a few months, the press release for the Fielding Bible noted.
Other teams with projections showing a big improvement from last season were the Mariners, Rangers,
Yankees
and A's (though the A's are still projected in the negative).
The clubs expected to take the biggest hit defensively are the
Astros
(going from 12th ranked to 25th) and
Dodgers
(11th to 24th). Losing Pence and
Michael Bourn
for the first half of the season has to be a major part of the Astros slide. The
Tigers
-- with
Miguel Cabrera
shifting to third base --
Brewers
,
Padres
and
Rockies
are also projected to fall down the Fielding Bible standings.
For more baseball news, rumors and analysis, follow @EyeOnBaseball on Twitter, subscribe to the RSS feed and "like" us on Facebook.