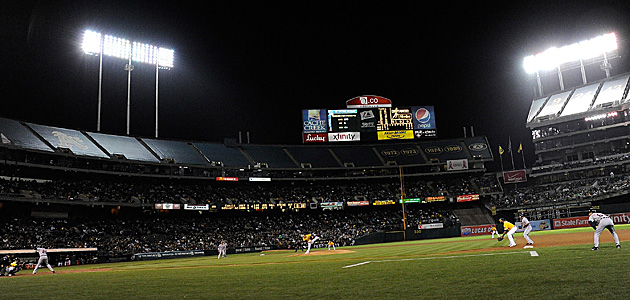 By Dayn Perry
Bill Madden of the
New York Daily News
raised eyebrows and hackles when he reported over the weekend that
the A's longed-for move from Oakland to San Jose would not happen
. It would not happen, Madden reported, because MLB would choose not to violate the
Giants
' nebulous territorial rights to the San Jose area. (Yes, there exists a world in which Oakland across the Bay is not an encroachment but San Jose,
an hour or so away via the 101
, is.)
An MLB source, of course,
denies that any decision has been made with regard to the A's bold step of moving farther away from the Giants
, reports Joe Stiglich of the
San Jose Mercury News
. If, however, the smoke leads to fire, then one must ask: What will become of the A's? Will we once again be subjected to half-serious rumors of contraction? Are the Portland/Las Vegas/San Antonio/Charlotte/New Jersey/Mexico City A's in our future? Will the status remain quo? BizofBaseball's Maury Brown, via Twitter,
sums it up thus
:
"A's: chances of contraction? 0. Chances for San Jose? Dwindling. Chances for Oakland? Low. Chance of sale? Rising."
At which point, one assumes, the dance will continue.


For more baseball news, rumors and analysis, follow @EyeOnBaseball on Twitter, subscribe to the RSS feed and "like" us on Facebook.