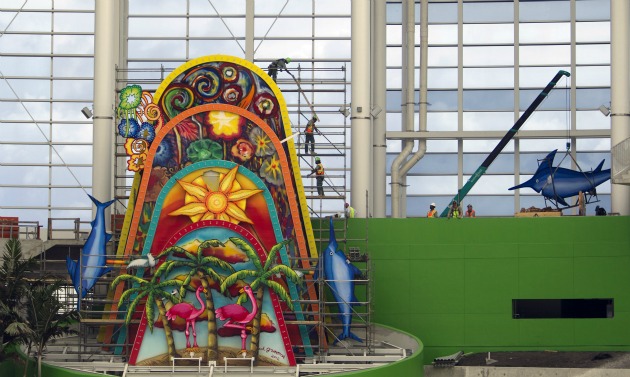 By Matt Snyder
There may be a problem with the sculpture in left-center field at the new
Marlins
ballpark, and not just because it's an eyesore for many people. It may, in fact, be placed too close to center field and be a distraction to left-handed hitters when facing right-handed pitchers. Some left-handed hitters on the Marlins reportedly think it will be.
"If it is an issue, it can no longer be there," said Marlins utility player
Greg Dobbs
(
MiamiHerald.com
). "I won't be the only left-handed hitter saying something. If other teams have a problem with it, they're definitely going to voice their concern to the league."
Catcher
John Buck
squatted behind the plate to get a look recently, and he thinks it's close.
"It's kind of my job to scope those things out,'' Buck said (
MiamiHerald.com
). "It might be close. It might be all right. I don't know. We'll see. I think for left-handed batters it might be trouble."
A lot more will be known Tuesday night, after the Marlins square off against the University of Miami in the stadium. For the time being, though, club president David Samson says MLB officials investigated the park last Thursday and found no "issue whatsoever." (
MiamiHerald.com
) Meanwhile, the batter's eye in center field is being painted black instead of the green color you can see in the above photo, so that's one thing they've already had to change.
If the home run celebration sculpture does pose an issue, it will be very interesting to see what the Marlins choose to do with it. At that size, it can't be easy to move, and it reportedly cost over $2 million to construct.
Hat-tip:
Big League Stew
For more baseball news, rumors and analysis, follow @EyeOnBaseball on Twitter, subscribe to the RSS feed and "like" us on Facebook.