As we wave goodbye to offseason news and as we wait for the regular season to begin – or, at the very least, training camp and the preseason – we fill our
days with thoughts of the abstract, and we ponder questions that can never be truly answered. Who are the best players in the NFL at their position? What separates the top man at his spot from No. 4 and No. 5?

Well, we're attempting to answer that in June and July. Andy and Josh will explore each position on the field and debate the merits and flaws
of each player. Clearly, it's reasonable for smart men to disagree, and these arguments during the next few weeks will only reinforce that notion. Even as we watch film, talk to NFL insiders and conduct our own painstaking research, our top-five lists, though they'll likely bear some similarities, will disagree. Which makes this whole endeavor worthwhile.

Today, we debate the top safeties – both free safeties and strong safeties.

Andy Benoit's top five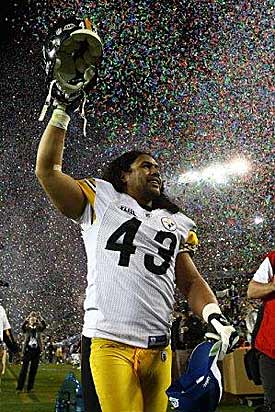 5. Nick Collins, Packers
4. Brian Dawkins, Broncos

3. Darren Sharper, Saints

2. Ed Reed, Ravens

1. Troy Polamalu, Steelers
The safety position has become the lynchpin to so many of the complex defensive schemes we see in today's NFL. Versatility is key. On that note, Polamalu is the most valuable defensive player in the NFL. He is a thumper against the run, he has fantastic range in coverage and, wherever he is on the field, he's a first-class playmaker.
Polamalu's presence is what enables Steelers defensive coordinator Dick LeBeau to be aggressive in his scheme. We saw last season that when Polamalu is out of the lineup, the Steelers D can be reactionary.
Reed makes the list on the assumption that his bum hip won't be a major issue come September. He may be the best centerfielder in NFL history. Sharper is an interception machine and, more importantly, a leader. Without his stability in the New Orleans' secondary last season, we'd have a different defending Super Bowl champ right now. Dawkins turns 35 this season but hasn't lost a step. Amazing. Collins has become a regular at the Pro Bowl. His instincts have improved every year, plus, he's not a bad tackler.
Josh Katzowitz's top five



5. Bob Sanders, Colts

4. Bernard Pollard, Texans

3. Brian Dawkins, Broncos

2. Ed Reed, Ravens

1. Troy Polamalu, Steelers
Well, it's hard to argue against Polamalu. He's the safety who scares every QB in the league, and you could really see the impact on his team when he was injured last season. The frenetic, sideline-to-sideline impact Polamalu made simply wasn't there.
As long as Ed Reed is healthy and returns to play – he recently said he's about 35 percent healthy, which doesn't sound promising – he's No. 2. Not much to be said about Dawkins – one of the top safeties in NFL history. Pollard flies under the radar because he spent his first couple years in the league with Kansas City and he hasn't been a Pro Bowler, but he's amassed 289 tackles in the past three seasons to go with four interceptions and three fumble recoveries in just 13 games last year. Was it coincidence that, when Pollard signed with Houston, the Texans' total defensive yards and defensive rushing yards decreased dramatically? I don't think so.
Sanders hasn't played much the past few years because of knee and arm injuries, but, at the age of 29, he's still in his prime and still has the talent that led him to two Pro Bowls and the 2007 NFL's defensive player of the year honor. Yes, he's not healthy very much, but when he is, he's one of the top guys in the league. I like Nick Collins as well and I think his stock is rising, but I just don't think he's a top-five guy yet.

Andy's rebuttal
I like that you went with Pollard – that shows you're paying attention. Few people even know about the fifth-year pro. The Texans put Pollard in attack mode last season – as opposed to react mode that Kansas City stuck him in – and he blossomed. Pollard is a formidable run-stopper and underrated playmaker. I want to see him perform at a high level for a 16-game span before giving him the nod, though.
Shortly after writing my list, Texans tight end
Owen Daniels
told me in a phone interview that Sanders is the best opponent he's faced. That made me regret not including the former Defensive Player of the Year. Honestly, I love the guy. But the fact of the matter is, Sanders is made of glass and the Colts were 14-2 without him last season.
Someone else we both need to consider is Saints strong safety
Roman Harper
. He's the X-factor in Gregg Williams' aggressive blitz scheme.

Josh's final word
Yeah, I had reservations about Sanders, because he's played eight games the past two years, and how can you call a guy a top-five safety when he's played so little?
You're right about Harper. The guy can flat-out tackle, he's a force when he crosses the line of scrimmage and gets into his opponent's offensive backfield, and he's coming off a heck of a year.
It's funny, though. Three guys on my list (Polamalu, Reed and Sanders) are coming off major injuries. Two guys on your list are at least 34 (Sharper and Dawkins), Reed is 31 and Polamalu is 29. Which tells us what exactly? I don't know. Maybe they just don't make Hall of Fame safeties like they used to, or maybe the younger safeties are just extremely mediocre. Either way, enjoy the safeties on our list for as long as they're playing. Some of them won't be around much longer.
--Josh Katzowitz and Andy Benoit
For more NFL news, rumors and analysis, follow @cbssportsnfl on Twitter.