Writing a book takes up so much of your time. It takes your leisure time and your sleep time, and until you finish those last few words and close the laptop, it takes your soul. In part, that's why when
Cardinals
RB
Tim Hightower
was approached about writing a book for young people coping with life, he originally didn't think he could fit it into his schedule.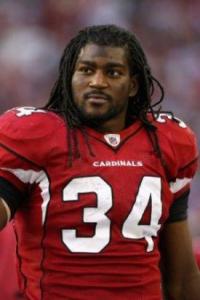 Fast forward two years, and his book, entitled "Faith and Football" is nearly complete. In this
Arizona Republic piece
, Kent Somers writes that editors are making their final cuts and will soon start shopping it to publishers.
Hightower collaborated on the book with Dr. Aleta Richards, a counselor at Episcopal High School in Alexandria, Va., where the two first met.
From the article:
In Hightower, Richards saw exceptional intellect, talent and generosity. In Richards and her husband, Bob Ellis, Hightower found friends and mentors. When Hightower overcame long odds to make it in the NFL, Richards thought the lessons Hightower learned along the way could benefit others.

The book is about "taking hits," Richards said, but not the football variety.

"We distinguish between physical hits and social hits, which are more when people hurt your feelings, as opposed to your body," she said. "In high school, these take the form of being rejected, insulted or having people start rumors about you. They are the things that make life difficult for young people."

At first, Hightower wasn't interested in participating. But Richards kept pursuing the idea, and eventually, he agreed.
"When I was a kid, I had the concept that athletes and actresses and actors lived in their own world, their own cities, their own towns," he told the paper. "You put people on a pedestal. (After removing the metaphorical pedestal), they enjoyed sharing your successes, your struggles, points where you've learned, your mistakes," Hightower said. "They like that. It helps them and it helps you as well."
--Josh Katzowitz
For more NFL news, rumors and analysis, follow @cbssportsnfl on Twitter.