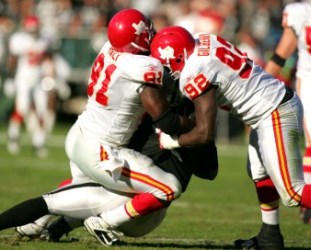 I found this
New York Times Fifth Down
blog post today slightly humorous and slightly bizarre. Asking about the rumors that imply former
Raiders
QB JaMarcus Russell – largely considered one of the biggest No. 1 draft pick busts in NFL history – might work out a deal with the
Jets
, reporter Kristian R. Dyer spoke with well-regarded quarterback instructor Tom Martinez, who trained Russell before he was taken No. 1 in 2007.
What's funny – and sort of head-scratchingly weird – Martinez blames a variety of reasons why Russell was terrible in Oakland. Very little of which, Martinez seems to say, was Russell's fault.
Among the issues that were not Russell's fault.
1)Russell should have been starting from day one and not relegated to backing up Josh McCown and Daunte Culpepper. That start-from-day-one decision might have worked for
Colts
QB
Peyton Manning
– who led his team to a 3-13 record in his rookie year, mind you – but the other option, allowing your top-picked QB to have a redshirt year, also works. Ask
Bengals
QB
Carson Palmer
, who's had a pretty good career after sitting behind
Jon Kitna
for a season.
2)Bad offensive line and receivers who didn't know – or simply couldn't – separate from DBs.
3)The Raiders signed him for too much money as a rookie.
4)The coaches didn't like him; only owner Al Davis did.
Yes, the fact that Russell didn't work hard and played at a heavy weight didn't have much to do with the reason he failed out of Oakland. Nothing at all.
OK, ok. Martinez isn't being that ridiculous. He makes some valid points, but surely, Russell wasn't so clearly not at fault.
From the article:

Of course, many in the league have questioned Russell's work ethic, including his teammates, who liked him and wanted him to succeed, but grew tired of what they perceived as his indifference. Russell's actions suggested he wanted out of the organization.

Martinez said bringing in Russell to back up Mark Sanchez would be a "brilliant move from a talent standpoint," but even he concedes that if Russell doesn't work hard, it will be the last we hear of him. All he needs is a fresh start, Martinez said, but the rest is up to him.

"If he repeats the same mistakes, then it's his last chance," Martinez said.
If he, in fact, gets another chance.
--Josh Katzowitz
For more NFL news, rumors and analysis, follow @cbssportsnfl on Twitter.