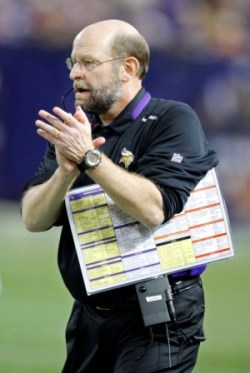 A great scene here, as described by the
St. Paul Pioneer-Press
, with
Vikings
coach Brad Childress bumping into his son, Andrew, as the Vikings coach was making his way through a handshake line at Bagram Air Base in Afghanistan.
Here's the lede (it's simply too good to let slip by):
The uniformed soldier staring back at Minnesota Vikings coach Brad Childress on the tarmac Friday morning looked similar to the other young men he had met this week during a USO tour of American and NATO military bases.

Then Marine Lance Cpl. Andrew Childress started speaking, and Bagram Air Base in Afghanistan went from being the latest stop on a goodwill mission to a surprise homecoming.

"I'm looking him right in the eye and didn't know who the hell he was," Childress said about his son. "He was much thinner. He looked at me with no mustache, no hair, but then I heard his voice and knew it was him.

"It was very emotional. Big hug. Hard to describe."
How cool is that? Childress, of course, is on a USO Tour with
Bengals
coach Marvin Lewis,
Eagles
coach Andy Reid and
Panthers
coach John Fox.
On a personal note: I attended the wedding of my cousin, Dana, this past weekend in Syracuse, N.Y., and the 4th of July was fitting for the couple. Her husband, Scott, has been gone this past year, serving with the Navy in Iraq, and it's been a trying time for the couple because of the long distance and the less-than-convenient ability to communicate.
I'm not a military guy, but it was inspiring to listen to him and his groomsmen (two couldn't attend because of military obligations) speak about patriotism and what it means to them to be an American. Such strong young men, much like Andrew Childress and all the Marines with whom he serves.
It goes without saying we all are in debt to the men and women who serve our country. It's just great Andrew Childress got a chance to get that homecoming half a world away.
--Josh Katzowitz
For more NFL news, rumors and analysis, follow @cbssportsnfl on Twitter.