Josh Katzowitz and Andy Benoit resume their debate, this time taking a look at the top five kickers in the NFL.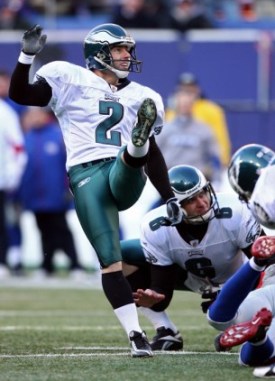 Josh Katzowitz's top five

5. Sebastian Janikowski, Raiders

4. Matt Prater, Broncos

3. David Akers, Eagles

2. Stephen Gostkowski, Patriots

1. Nate Kaeding, Chargers
Kickers might get less respect from fans than other position players, but hardly anybody shares the same kind of glory as a kicker after nailing a 52-yard game winner, and hardly anybody can feel the jeers after missing an easy 31-yarder that caused his team to lose.
With that, we start with Kaeding. A little bit of the shine is off him because of the three missed field goals in the 17-14 playoff loss to the
Jets
last year. But he's still the most accurate kicker in NFL history (87.2 percent coming into this season). Gostkowski took over for former Patriots K
Adam Vinatieri
, and he made people instantly forget how good Vinatieri was for New England. Need proof? Check out this
Facebook group
(ignore the fact there are only 45 members).
You might be averse to 12-year veteran Akers, because people still remember his slump from 2005-07. But last year, he had one of the best seasons of his career and was the best kicker in the league. Prater has bounced around the league a bit, but he found his footing last year. You might not like my Janikowski pick. But he's got one of the league's strongest legs and he's coming off the most accurate season of his career.



Andy Benoit's top five



5. Olindo Mare, Seahawks

4. Rian Lindell, Bills

3. David Akers, Eagles

2. Ryan Longwell, Vikings

1. Rob Bironas, Titans
Regarding Kaeding being the "most accurate kicker in NFL history", is it me or have there been about 10 different "most accurate kickers in NFL history" this era? Anyway, I can't put Kaeding on the list for the same reason you shouldn't.
Many people forget that Janikowski was a first-round draft pick. In that sense, he has been an underachiever. Gostkowski doesn't have enough pressure kicks to his name yet. My first memory of Prater is when he admitted to a lack of confidence in 2008. Maybe he got his confidence back in '09, but I will need at least three years to shake that first memory.
As for the guys on my list, I went with experience. Mare is a booming kickoff specialist - plus he made his last 21 field goals in '09. Lindell is consistent even in the Buffalo wind (I know, I'm re-using my
Brian Moorman
analysis). Akers doesn't quite have the range he once had, but he's still reliable under pressure. Longwell was 26/28 last year. Bironas is the best long distance kicker in the game (5/6 from 50+ yards last season, range up to 60 yards).
Josh's rebuttal
It's surprising that we only have one kicker who made both of our lists. I thought about putting Bironas on my list, but I just couldn't pull the trigger. Lindell might be consistent, but he was pretty crappy from outside 40 yards last year (58.3 percent). Could be a fluke, I suppose, because he's normally better than that from long range. Mare has been pretty up and down in his career, but he is coming off two fantastic seasons, so I can see your point there. Even though our lists are almost completely different, it's hard to get too worked up about it. I like my list. I like your list. Everybody's happy.
Andy's final word
To me, recognizing a great kicker is like recognizing a great free throw shooter. How nervous are you when a kicker lines up to attempt a game-winning field goal against your team? In a casual, unofficial way, that gives you some indication of how great a kicker is (or how great you think he is).
(
Other positions:
Safety
|
Cornerback
|
3-4 Scheme Outside Linebacker
|
Punter
)
--Josh Katzowitz and Andy Benoit
For more NFL news, rumors and analysis, follow @cbssportsnfl on Twitter.